Maureen was born in London on 28th June 1944. Her father lost his sight in an accident shortly after her birth, and thereafter the family lived in fairly frugal circumstances. Throughout her childhood she acted as her father's 'eyes', describing things to him and guiding his excusions, and these experiences were to have a profound effect upon her later perceptions as an artist and poet. In the early 1960s she studied Fine Art at Goldsmiths College, where she met and married fellow student Fred Wilkinson. After graduating she exhibited her paintings in solo and group shows in the UK and Europe, before working for fifteen years as a teacher to emotionally disturbed andolescents, and later to younger dyslexic pupils.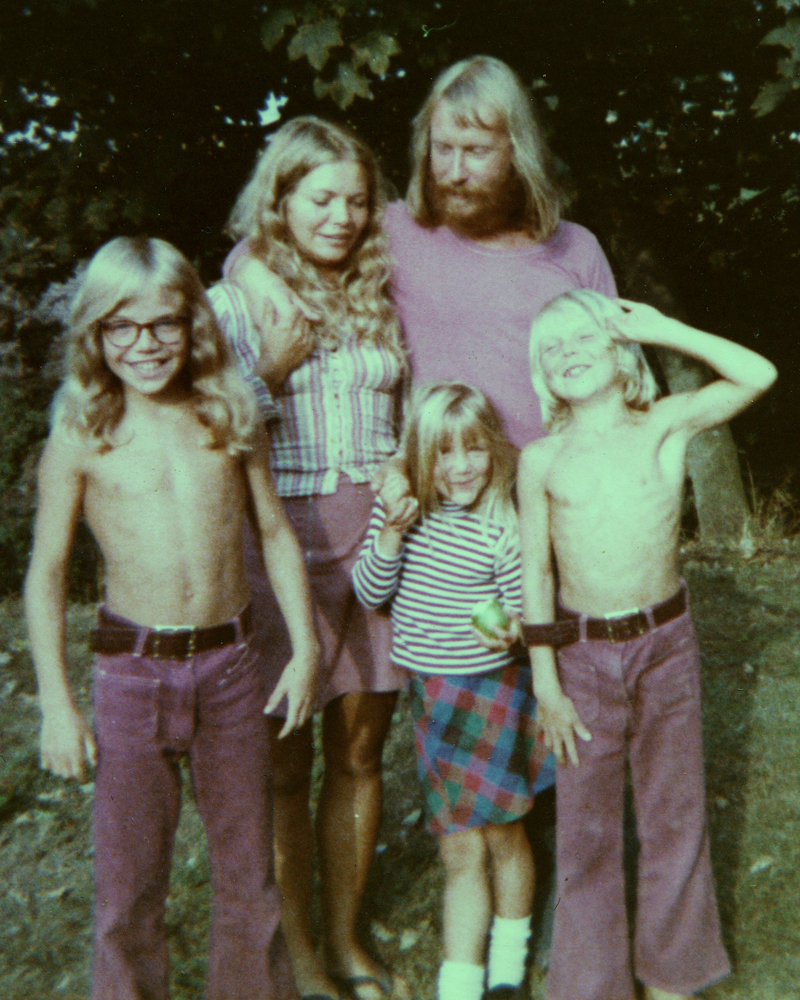 As a working mother with three young children there was little time during these years to pursue her career as an artist, and instead she translated her visual ideas into poetry. During the 1980's and 90's she won several major literary prizes, was published by Peterloo Poets, and had work included in many anthologies. Poems were often inspired by intensly visual ideas and visual sequences, and this resulted in her practice of partnering poetry with some visual works, and the inclusion of text in some pictures.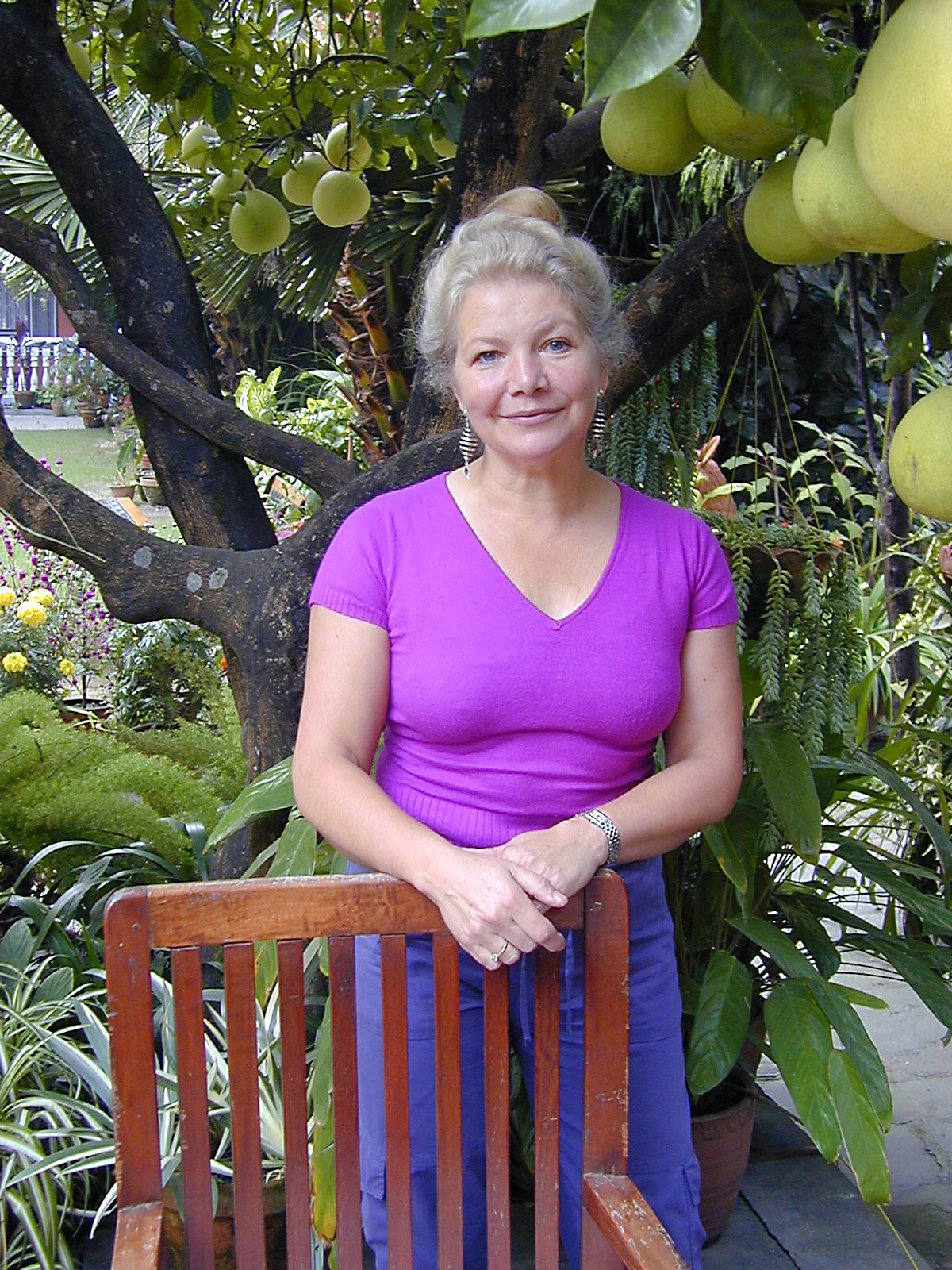 In 1981 Maureen moved to a small farm in Cornwall with her husband and family. Virtually overnight they became farmers growing fruit and vegetable, hand-milking two cows, rearing pigs, poultry, sheep and cattle in an attempt to become self-sufficient. She was enchanted by the space, solitude and beauty of her new environment, and an awareness of 'self' within an intimately known landscape became a profound creative influence.
In the mid 1980s the Wilkinsons embarked on a period of world travel, their trips embracing South America, Nepal, India, China and Thailand, but particularly focussing on the Far East. They eventually made over 40 trips to the Indonesian island of Bali to study its art and culture. This led in 1988 to the opening of Cornwall's renowned Morning Price Gallery in Falmouth, specializing in ethnic Art & Crafts from around the world. In the early 1990s they opened a second gallery in Falmouth and others in Penzance and Penryn. The Wilkinsons were early pioneers of fair trade. They personally purchased and commissioned their stock directly from artists and craftsmen at source in the country of origin, and later provided well-paid regular employment for about 200 craft families in some of the poorer regions of the world. Their Falmouth gallery remained open until 2004 when the business emphasis switched from retail to web-based wholesale. Trading as World Art & Crafts the Company supplied fair trade decorative and ethnic handicrafts to retaileres throughout the UK and Europe until its eventual sale in 2010. Maureen continued to write and paint throughout this period.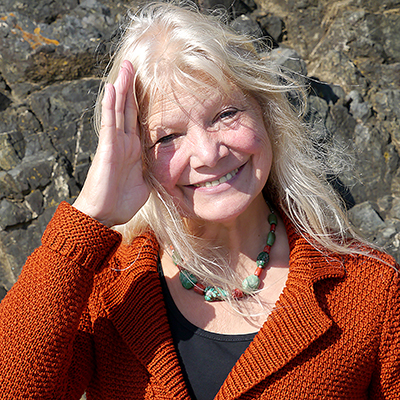 In 2008 Maureen moved to a cliff-top home facing the ocean in a remote part of Cornwall, UK, where she lived with her artist/photographer husband Fred and their two red setters. She continued to paint, make collages, and write poetry until shortly before her death. Her last collage 'The Garden of Dreams' was based on a beautiful walled garden of that name in Kathmandu that she visited a few days prior to her first stroke. Her last poem 'Stroke' reflects on her experience. Sadly, both works were unfinished when she passed away on 30th October after a series of devastating strokes and cancer.
Maureen was beautiful, enchanting, imaginative, kind and loving...always a joy to be around. She painted, she wrote, she gardened, she baked and she laughed! She was quirky, courageous and adventurous, and put her heart and soul into everything she did. She always saw the best in people, and quietly sought to comfort and heal. She believed in the power of love. She was an inspirational and magical woman...a natural mystic, a woodland spirit! Many will recall her quiet wisdom, ready smile and her laughter. She was my wonderful soul mate for 54 years and I cannot imagine life without her...although I feel her presence everywhere!
This charity, One Golden Angel, is to honour her memory. Fred Wilkinson.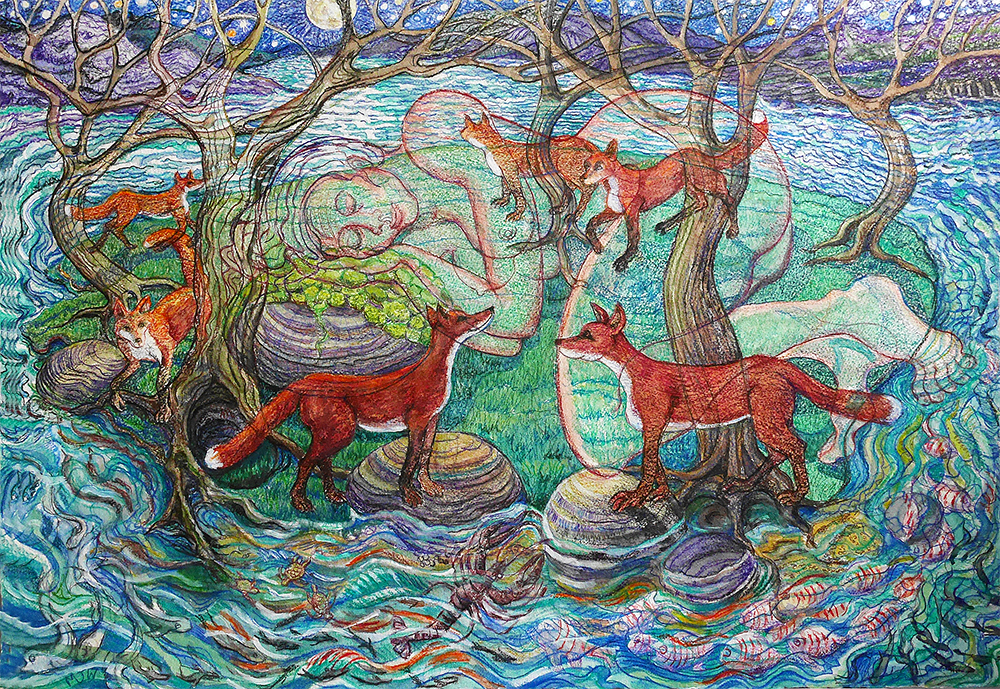 Fox Island - by Maureen Wilkinson
Maureen always loved foxes and believed, like me, that seeing one was lucky. I discovered this lovely watercolour painting in her studio shortly after her death. It depicts a naked woman (herself) peacefully sleeping, perhaps dreaming, surrounded by 6 foxes on a tiny wooded island. Her pillow is a mossy boulder. There is a full moon and a star-studded night sky, the oak trees are bare, and the ocean is full of fishes, baby turtles, and a crayfish. The foxes were undoubtedly her animal totems and her guardians. Prints of this painting can be purchased on this website.