SOME RANDOM ACTS OF KINDNESS MADE POSSIBLE BY YOUR DONATIONS
JULY 2017: I made a return visit to a student whose arm and hand were crushed in the earthquake that destroyed her home and killed her father and her best friend. She was living in a temporary corrugated iron shelter with her mother and young brother when we met during my last trip, but the family has since rented an old dilapidated house nearby. It is sparsely furnished due to the earthquake, and the monthly rent takes most of her mother's wage as a casual farm labourer. She struggles to buy food and make ends meet, and her 11-year-old son desperately needed new shoes, as well as school books.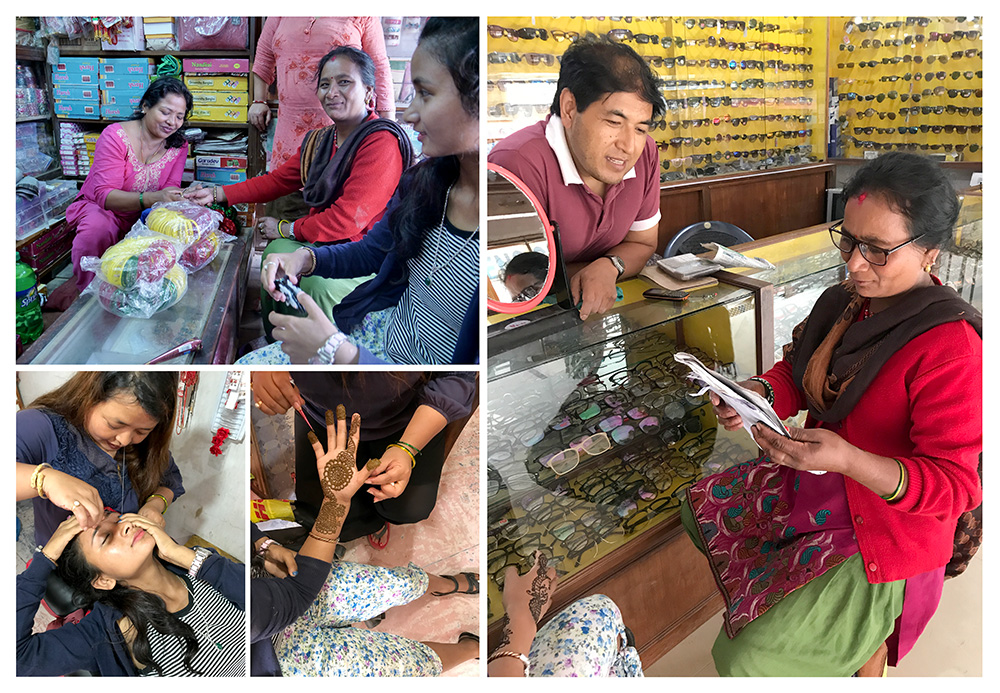 I learned that her mothers eyesight had deteriorated since the earthquake and she can no-longer see well enough to knit or make the jewellery that previously provided a better source of income. She simply couldn't afford an eye test or spectacles equivalent to 2 weeks pay.
One Golden Angel has been paying for physiotherapy on the injured arm and this visit was to discuss more surgery on the hand to relieve pain and restore greater function. However, I felt the charity could do a little more for the family, to cheer them up, and improve their prospects after the loss of their main breadwinner.
We began with a brief visit to local jewellers to buy lucky green and yellow bangles, then to a beauty parlour for eyebrow plucking and a couple of peacock mehandi, before going to the opticians for an eye test and a pair of bifocals, and finally to the shoe shop. My hope is that the mother will now be able to knit again and provide a better income for her family.
All of this was made possible by a single gift of 50 Euros (£45 or $59) to the One Golden Angel Charity from Franco Beghellii, a lovely man I met at my hotel.
PS. I am pleased to confirm that her mother is now at home happily knitting and beading again.
---
EARTHQUAKE VICTIM: Today, at the request of my friend Raju Dhakal, I travelled to Bhaktapur to meet Ram Laxmi, a 19 year old earthquake victim still living in a temporary tin shelter with her mother and 10 year old brother. The land the shelter occupies is about to be developed and the 50 or so families living there have to move out. Raju, with the help of the Lions Club and others, is trying to re-home Ram Laxmi's family, but he was also aware that she needs medical attention, and that's when he turned to me and One Golden Angel.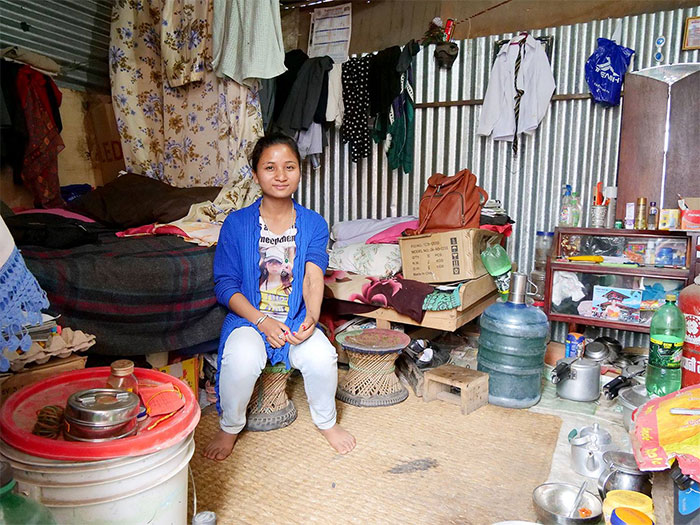 Ram Laxmi was at home with her father and her best friend when the earthquake struck and brought the four-storey house down on top of them, killing her father and friend. She was buried under the rubble for 12 hours before being pulled out alive, but with her left arm badly crushed and other injuries to her legs. Now, two years and four operations later, she is still recovering and in need of regular physiotherapy to reduce pain and restore more function to her hand.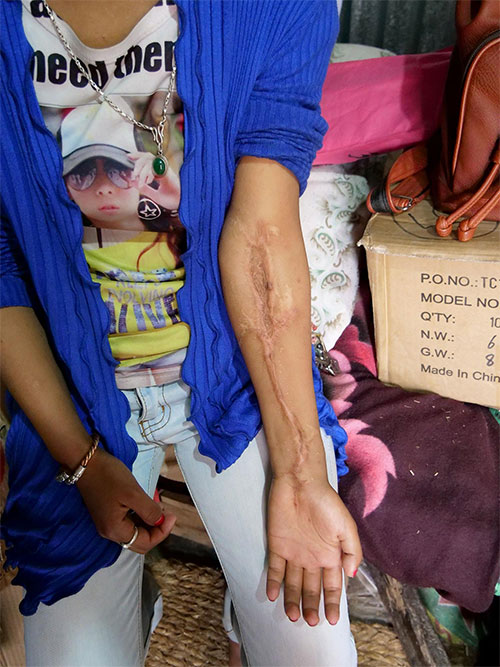 I arranged to meet her at the shelter and then we walked the short distance to see what was left of her original home, before taking a taxi together to the physiotherapy clinic. The clinic was well equipped and the physiotherapist experienced, kindly and professional. I agreed to fund daily one hour treatments for a month at a cost of £42 ($54) starting immediately, with further treatment if necessary. There was a marked improvement in mobility even after this first session, which included ultrasound.
Most of the family's possessions were destroyed in the earthquake and they now live in relative poverty after the loss of the main breadwinner. Her mother is reduced to digging fields by hand and is paid just £1.90 ($2.42) for an 8 hour day as a casual labourer. Ram Laxmi is lucky to have a sponsor pay her university fees. However, food is in short supply, her mother is stressed, her brother lacks the school stationery he needs, and the family lead a joyless life.
I wanted to do something to lift their spirits so a little 'One Golden Angel' retail therapy seemed in order…a pair of jeans for Ram Laxmi, jeans and a Tee-shirt for her 10 year old brother, and a bag of fruit to take home.
PS. The consultant pysiotherapist later informed me that Ram Laxmi needed another operation on a tendon, followed by more physiotherapy, which I have agreed One Golden Angel will pay. The family have found a room but cannot afford the £24 ($31) monthly rental and are about to become homeless unless a solution can be found (15th May 2017).
---
SUCH IS LIFE: Today I stopped to talk to a family living in one of three makeshift shelters on the roadside in a part of the city that few foreigners visit. They have been there since their homes and livelihoods were destroyed in the 2015 earthquake. Seeing my interest, they were happy to chat about their circumstances when questioned, and made no attempt to solicit help despite their obvious need.
After a while I was invited to take a look inside their shelter, and learned that it's home to two sisters and their unemployed husbands, one a former street kid. His wife has a small infant, and a baby of just 6 weeks. The other woman is 6 months pregnant and suffering from a throat infection because they all drink stagnant water from the temple pond across the road. There are also two pet dogs.
One of the men told me that they they can't find work and rely on handouts to survive. They share what little they get with their neighbour, a disabled man suffering from HIV and multiple untreated conditions, and probably dying, who lives alone in the shelter next door. When he can he drinks to obliterate the pain. Later I bought him a bottle.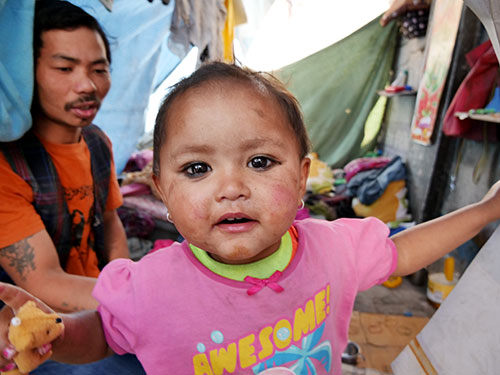 It soon becomes apparent that there is literally nothing to eat or drink in the shelter, not a scrap…and still they didn't ask for help, although seeing my concern their hopes were rising. Of course, it was impossible to walk on by, and any one of you would have done the same as me under the circumstances. It's such a privilege to help when one can.
I asked one of the men to accompany me to the nearby grocery store where, using One Golden Angel's money, I purchased 15 kilos of rice, some sugar, tea, powdered milk, tumeric powder, biscuits, vegetables, candles, throat lozenges, a large jar of water and a can of kerosine…all for just £23 ($29) and it might last them a month!
I spent as much again myself on dinner for 3 in a smart restaurant in the evening. Such is life!
---
THE ORPHANAGE: Today, at the request of a Nepali friend, I visited The Everest Child Care Home for 38 children, mostly orphans, aged from 18 months to 14 years. It is almost single-handedly supported by the efforts of a local businessman, a Lions Club member, who valiantly strives to raise the necessary funds to keep the home afloat. He struggles to pay the rent and school fees, and feeding the children is a constant worry. They often go without staples such as rice and fruit is a luxury the children eat once a month. The facilities are very basic, and they were even short of food bowls and spoons.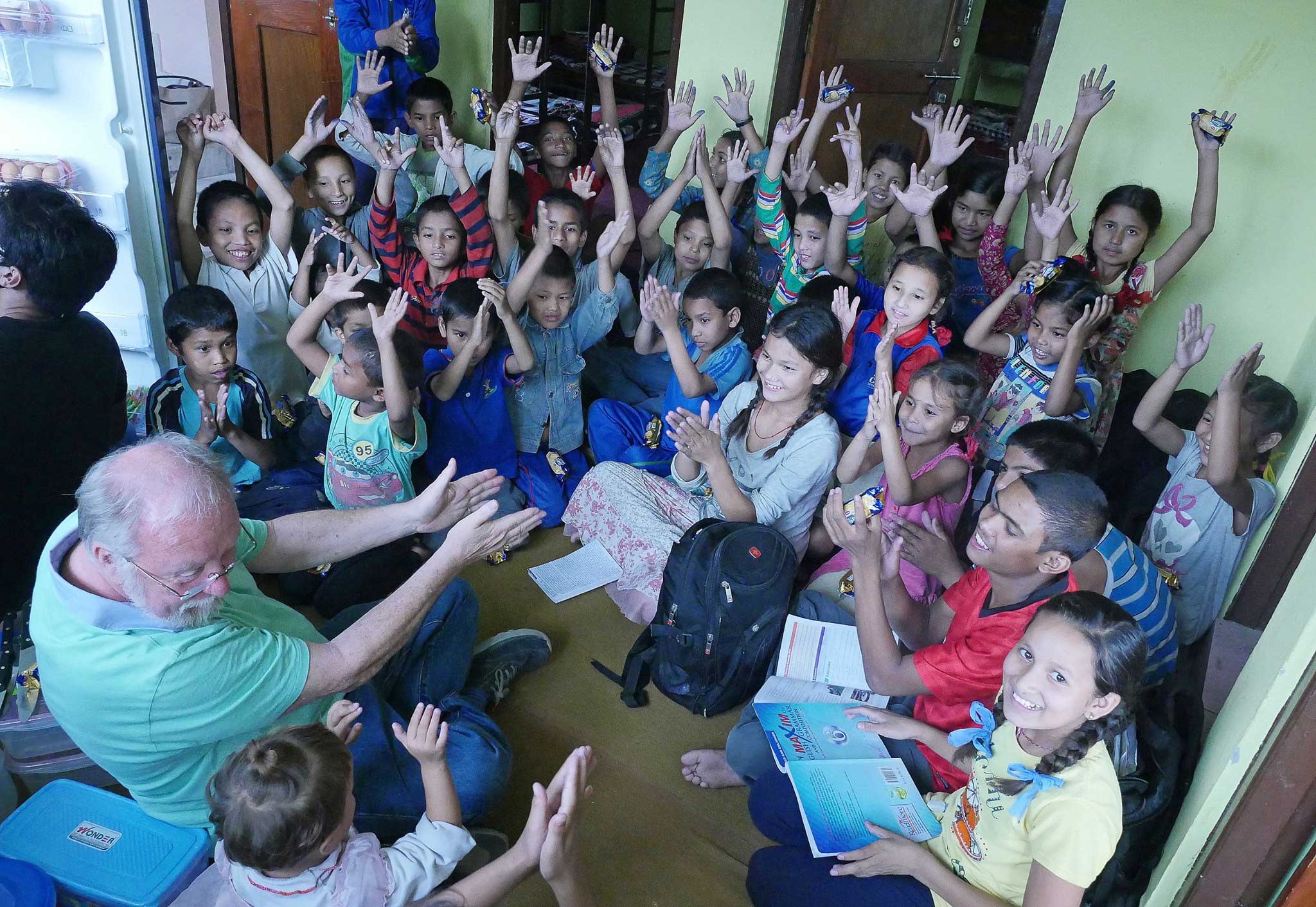 Wiggly finger play...with all the children copying the hand movements of the shy little child beside me. Great fun!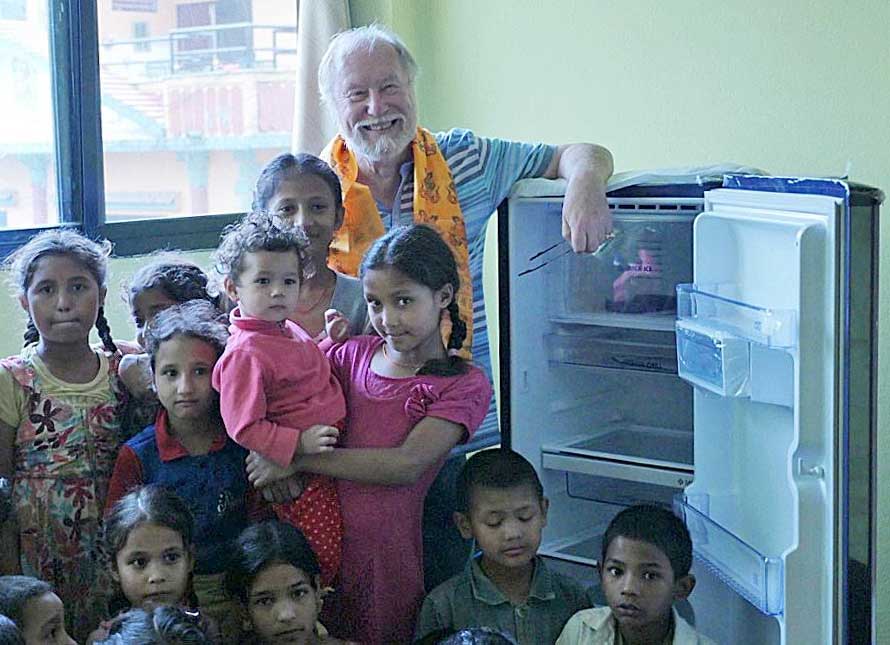 I was told a lot of precious food was wasted as they didn't have a fridge to keep things fresh...so I used some of One Golden Angel's money and bought them a large one for £175 in the afternoon. They said they would name it after Maureen.
Their other priority, apart from food, was 2 bunk beds at a cost of £60 each because 4 children were sleeping on the floor. An overnight appeal on Facebook resulted in donations from two friends to pay for the beds, so months of sleeping on the floor are over for 4 little people.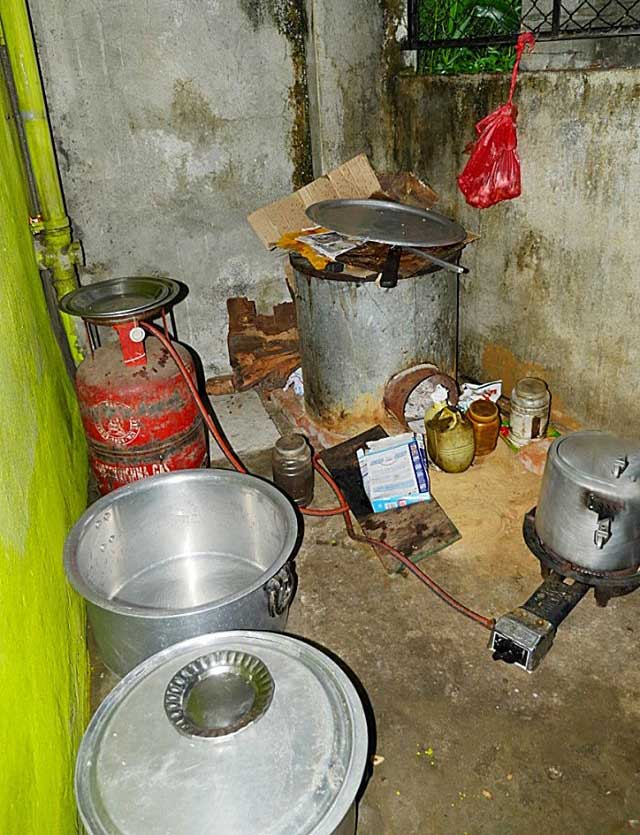 The kitchen is housed in a lean-to and has a plastic corrugated roof that leaks like a sieve. It is monsoon season and the rain poured through and soaked the floor during my visit, so the cook worked barefoot.
Most of the food is cooked on a wood-burning stove in the corner, but when they can afford it they use gas. The electricity is off 16 hours a day due to load shedding. They don't have solar power, and use candlelight at night.
The children all seemed happy, and quietly got down to homework when they arrived home from school, but I noticed there were absolutely no toys or games for them to play with.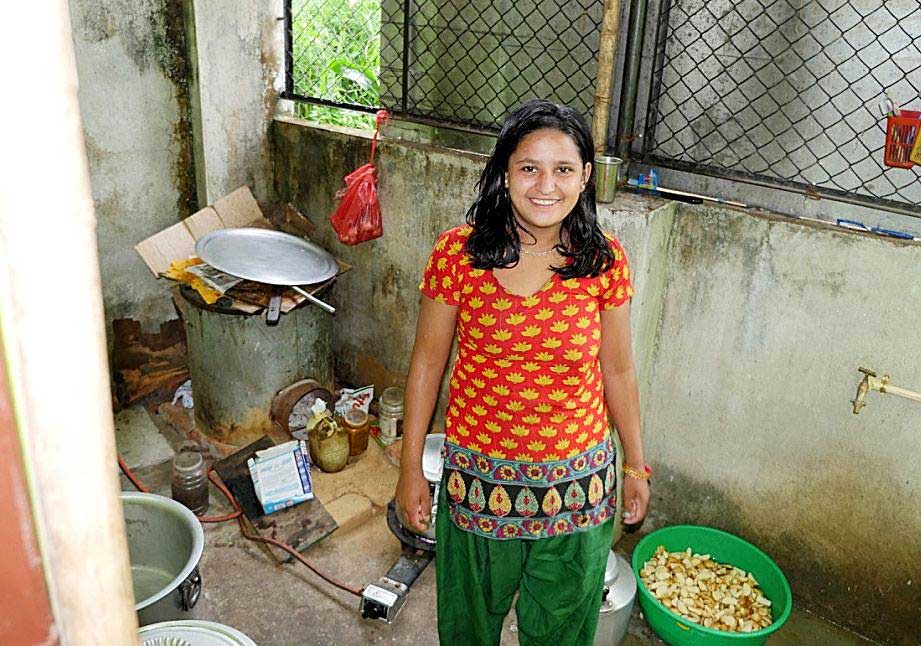 The Cook in her Kitchen - a mother of 2 and a widow at 24 (her husband suddenly coughed blood and died when baby was 4 months)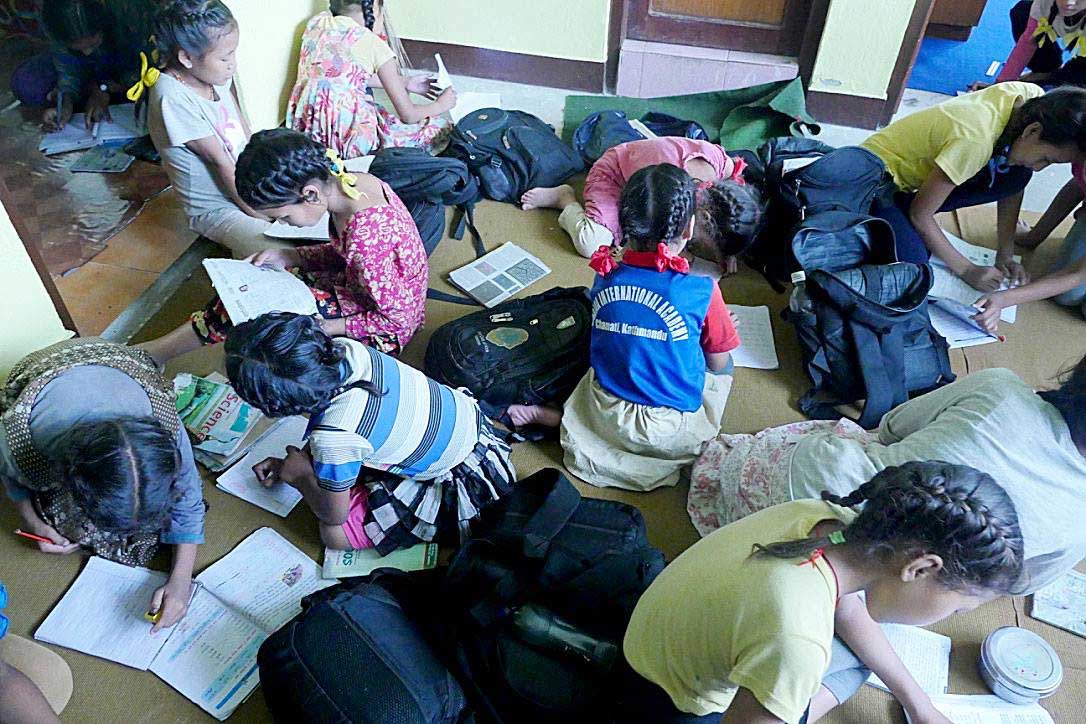 I returned to the home the next day for the inauguration of the fridge, and took with me the metal food bowls and spoons they needed, and for the children an assortment of board games, toy animals, hula hoops, sketchpads and coloured pencils (£116). I also bought a few personal treats (£10) for the young cook, a mother of two and a widow at 24.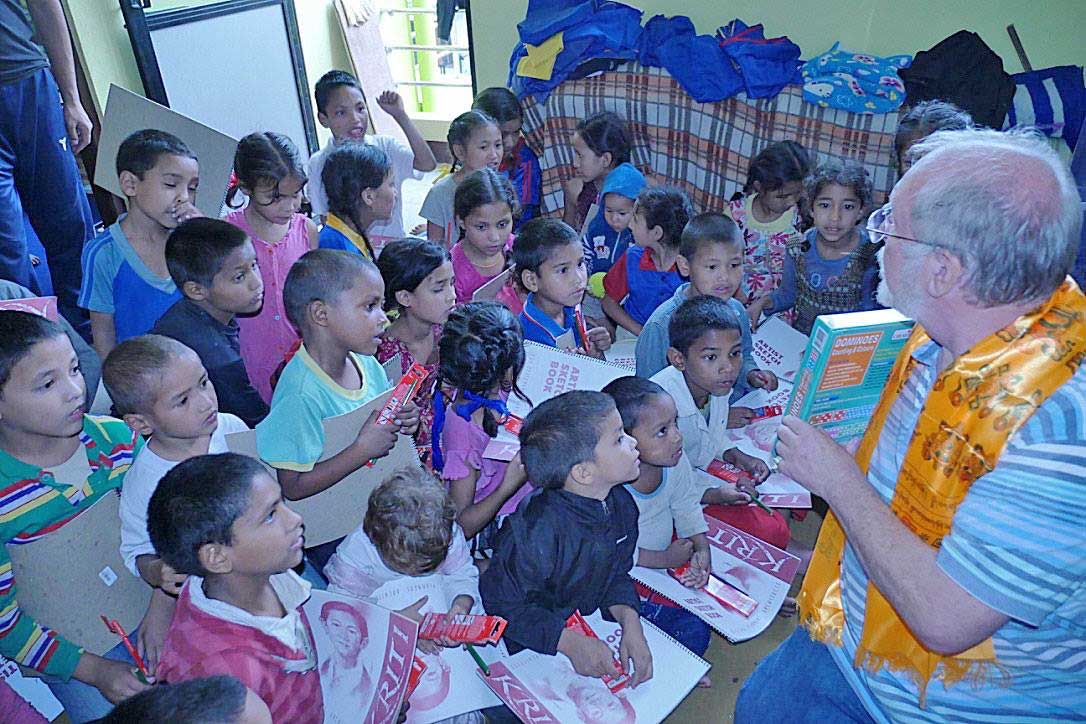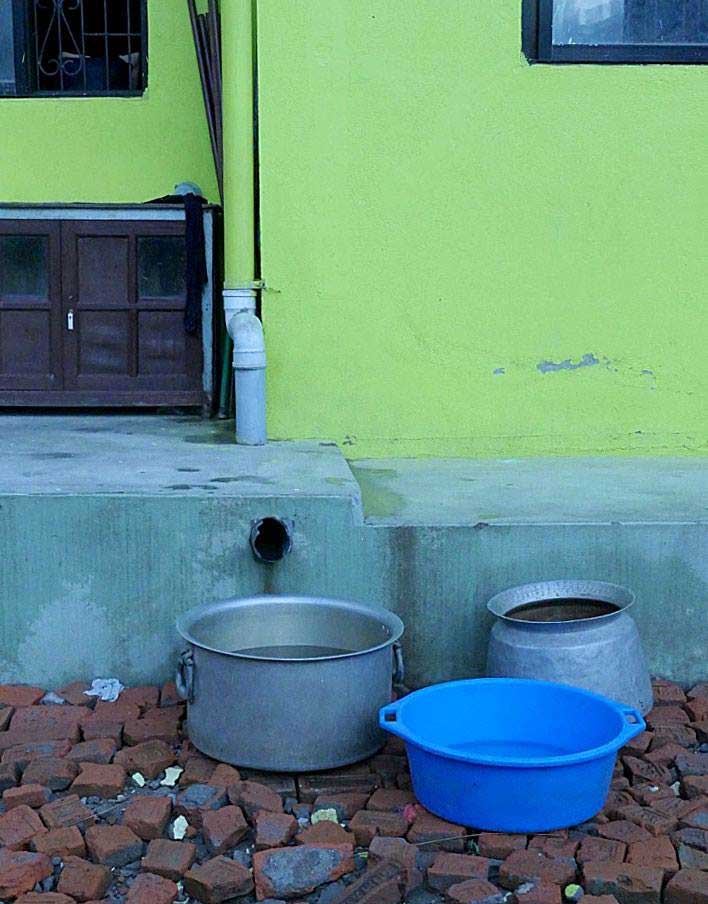 Handing out board games and sketchpads
The following morning was spent shopping for essential cooking utensils, plastic food containers (£44) and fresh food to fill the fridge and larder (£98). I delivered them to the home in the afternoon and used the opportunity to learn more about the houseparents, staff and children. Whilst there I asked to use the toilet and was told there was no water to flush it. I imagined there was a temporary shortage and was appalled to discover the home had NO WATER for ages, and the children only washed twice a week when they visited a neighbour's house...all 38 of them! The home had some bottled drinking water, which they rationed, but couldn't afford to pay for the non-potable water needed for cooking, washing and sanitation. This meant that the children, their clothing and bedding went unwashed, and the toilets unflushed until sufficient rainwater was collected in buckets via downpipes from the roof.
A tanker holding 7,000 litres of water costs £18 and lasts 5 or 6 days...about £100 per month (a small fortune in Nepal). Maureen's Memorial Fund paid for three full tankers (£54) and the first arrived within the hour, but it's anyone's guess what they will do when that runs out in a couple of weeks! One of my friends kindly offered to buy them one tanker of water every month for a year.
This is one of the very few genuine orphanages and care homes in Kathmandu. Sadly, most are corrupt NGOs or nasty business ventures set up to fleece well-meaning visitors, and the neglected children are rarely genuine orphans.
---
THE RESCUE SHELTER: Visited my favourite Rescue Shelter today to see old friends and catch up on the news, I saw the two new metal bunk beds (£258) and the solar energy installation (£360) that One Golden Angel funded earlier this year, and got a positive update on two recently rescued children aged 11 and 15...the younger was at high risk of becoming a sex worker like her 15 year old friend. Incredibly, both had quickly settled in at the shelter.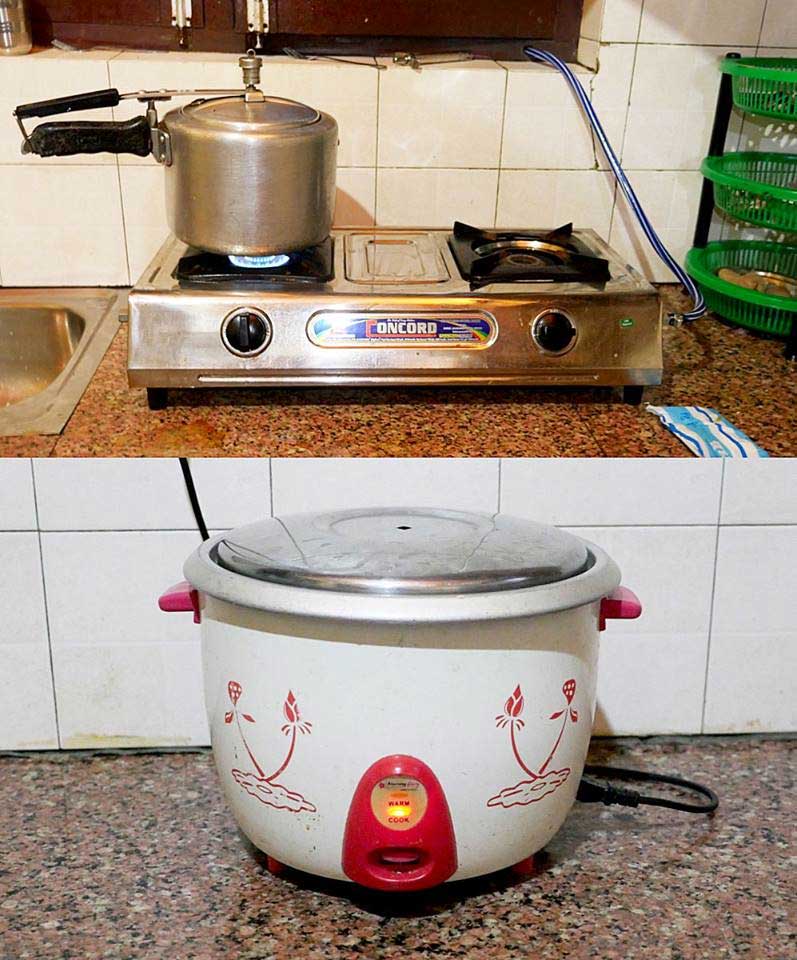 A brief inspection of the kitchen revealed that all three major appliances urgently needed replacing...the double-burner stove leaked gas (I could smell it in the next room), the pressure cooker didn't work and was used like a saucepan, and the rice cooker gave electric shocks when touched!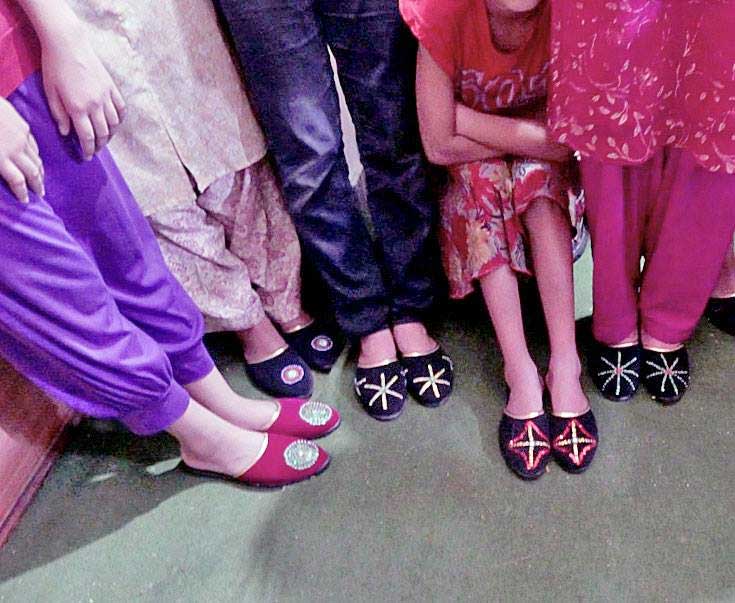 Just as I was leaving I noticed a display cabinet full of slippers which some of the girls had nicely decorated with beads. The proceeds of any sales went directly into the bank account of the girl responsible for the work. I could see that some of the residents didn't have slippers so I purchased a pair each for everyone, and some for the staff, thus rewarding enterprise and providing a double benefit for the price of one! Total cost about £52.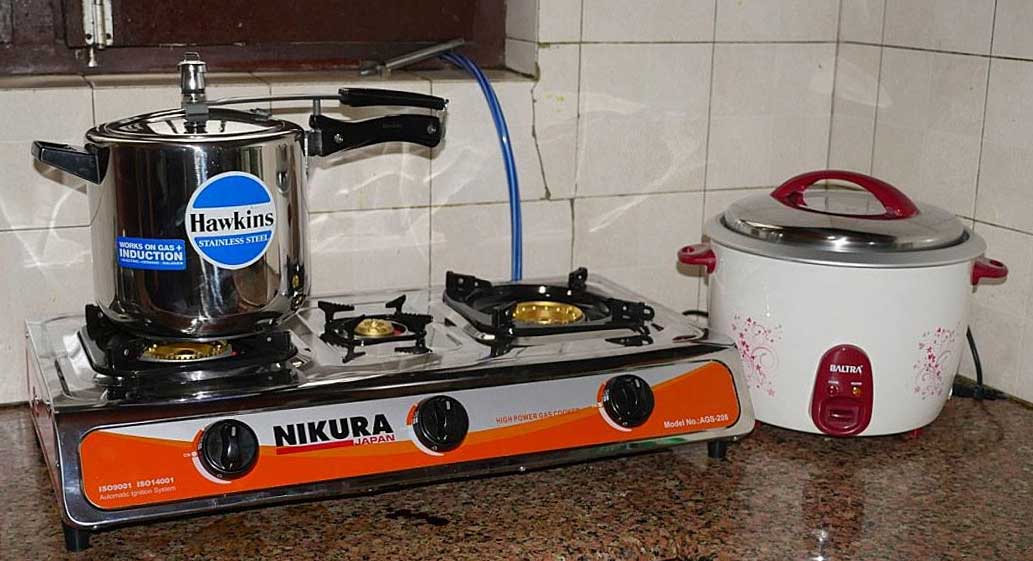 The New 3-Burner Gas Stove, Pressure Cooker and Rice Cooker
I returned a few days later with a new tripple-burner gas stove, rice cooker and pressure cooker (£231), and watched the children enjoy a yoga and meditation class. This was followed by a child's 10th birthday party that was celebrated with cake, music, song and dance.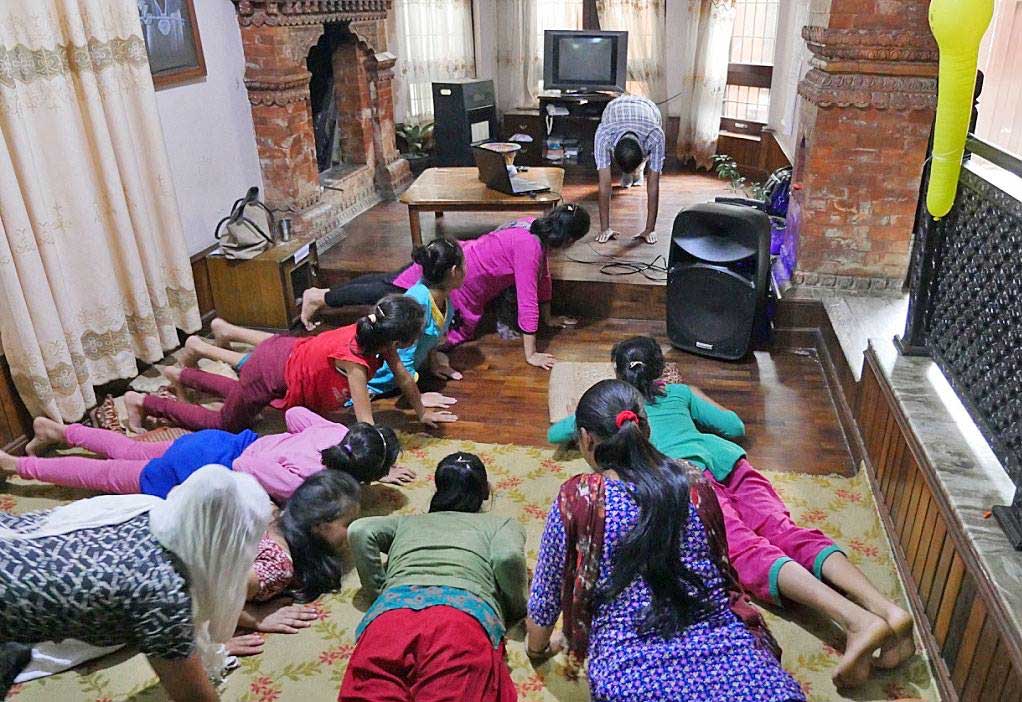 The Yoga and Theraputic Meditation Class - the children loved it!
The masks, dolls, puppets, balloons and sweets (£25) that I always carry in my bag came in handy, and I was almost moved to tears when the trafficked 15 year old who was forced into the sex trade at 12, seized on the stuffed monkey (£5) that I brought for the youngest resident, and clutched it to her chest and played with it like a six year old!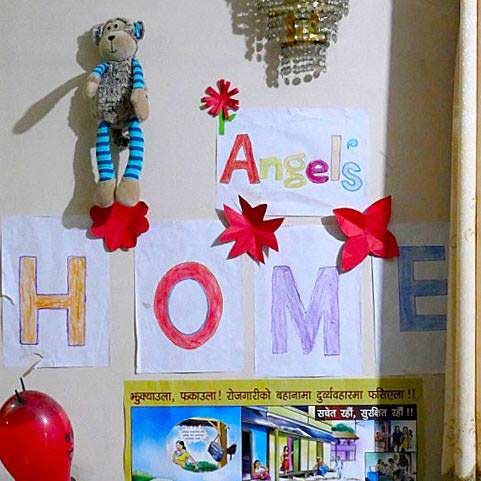 I can't say where this place is as I have to protect the identities of its residents, but the 'Angels' are rescued children and this wonderful place shelters and nurtures them with love. Just imagine the worse things that can happen to a young girl and you'll understand the challenges the staff face in restoring self-esteem and happiness. But they do much more than that...they support them throughout their school years and provide vocational training so that they can become independent and successful adults when they leave.
The home needs 2 laptops for the older girls so that they can explore the world through the internet, some book shelves for a small library, and 6 suitcases for personal use.
---
THE PEOPLE IN NEED HOME: I visited the PIN (People In Need) Home to distribute postcard-size prints of the portrait photographs I took in May...one for each child (£10). The housemother wanted to display them on a wall, but I insisted the children keep them. Poor families and children in care rarely have any images of their childhood to look back on in years to come. I also gave each of the 28 residents a surprise grooming set comprising hairbrush (their first), large comb, hairbands and clip (£49).
I have been to this home 7 or 8 times over the last six months and it was good to see the children again, and especially the four young women that I had previously secured university sponsorship for. One Golden Angel continues to pay the school fees for the other 24 children.
Then it was dinner time...curried potatoes cooked and served by the older residents.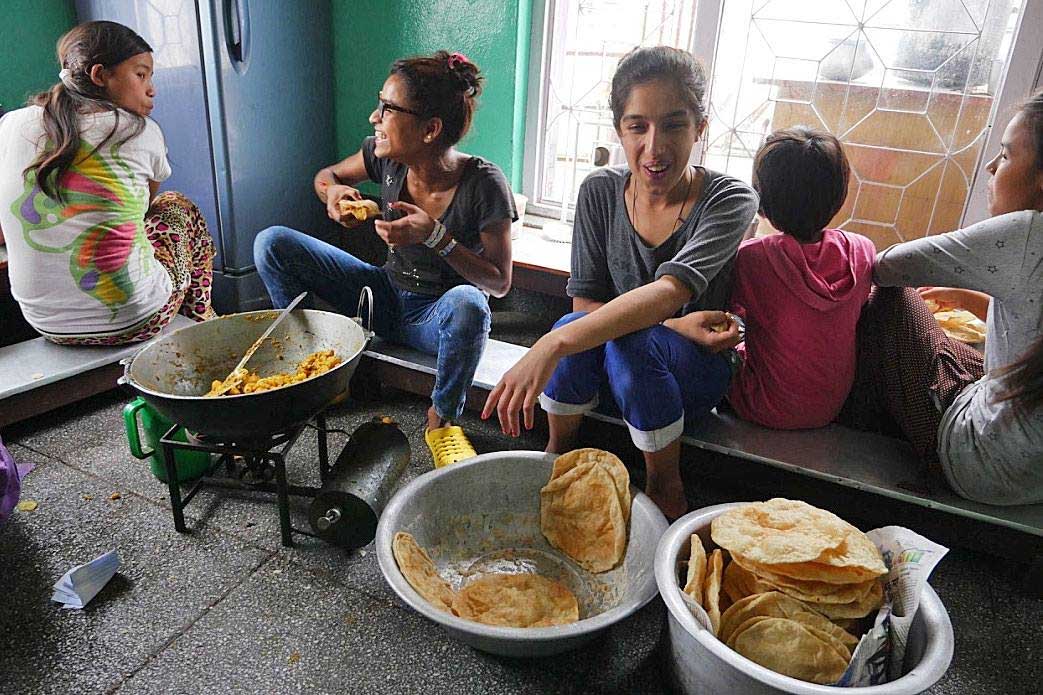 Friends are now sponsoring the university education of these two girls and 2 others

I discovered that the home's Annual Outing had just been cancelled for the second year running...last year because of the earthquake, and this year because of the expense of replacing the threadbare carpets. So all 38 girls went to the Botanical Gardens for a picnic thanks to Maureen's Memorial Fund (total cost £70).
---
THE BRICK FACTORY: I am now a regular visitor to this Brick Factory in Bhaktapur, where living and working conditions are so appalling they defy belief. On this occasion I distributed photographs I had take earlier of couples and their children. I also handed out dolls, finger puppets and toy cars, plus small wind-up torches for adults living in windowless brick homes without electricity (about £85 in all).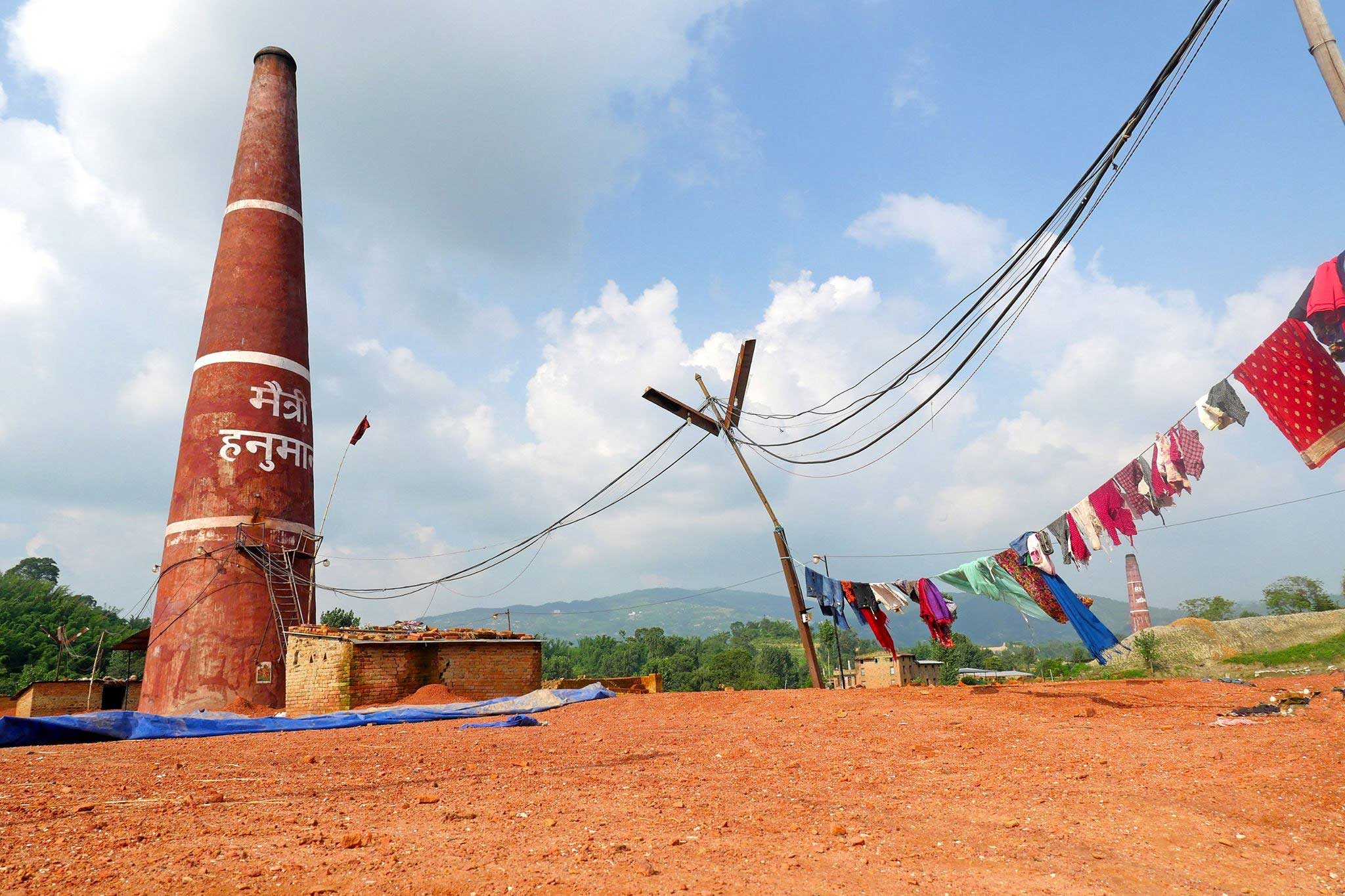 I spent some time observing and photographing women carrying bricks from the kiln to a nearby lorry, where they were loaded by men. The women carry at least 30 bricks at a time, each weighing 2 kilos, for which they receive £1.75 per 1,000, earning a maximum of £3.70 a day for this back-breaking work.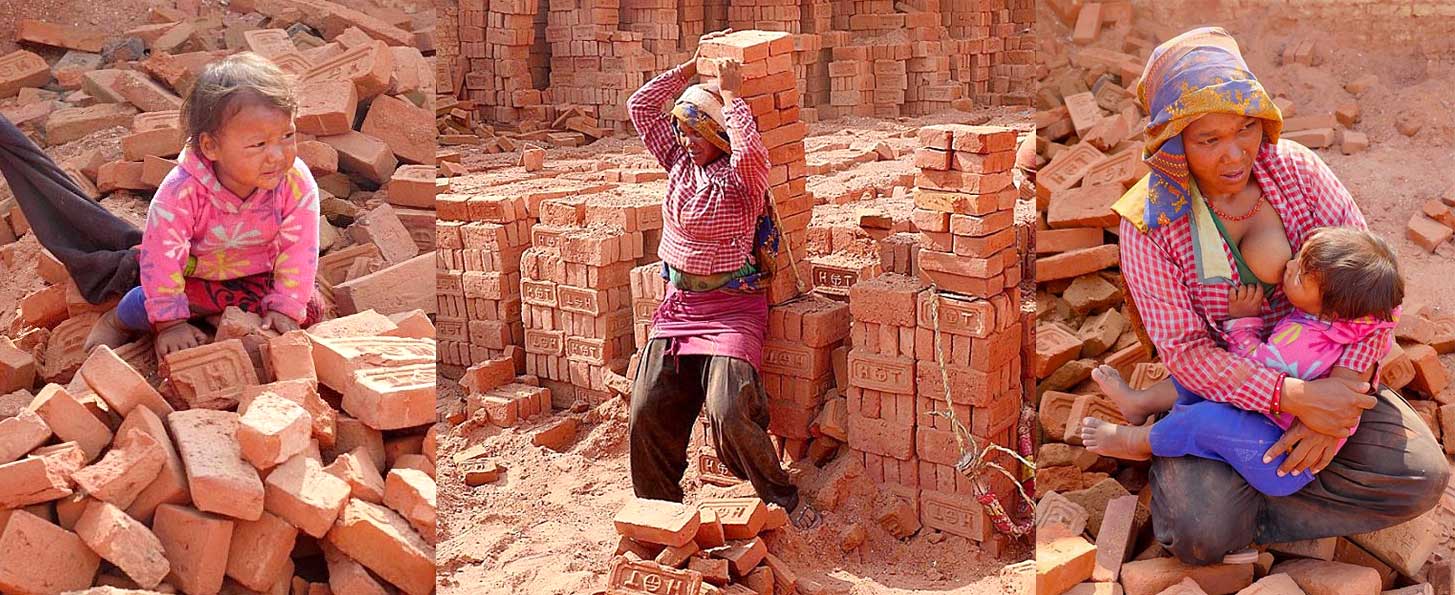 This distraught and hungry child is tethered to a ladder inside the kiln. He sits tearfully on a pile of bricks watching his out-of reach 24 year old mother at work carrying bricks. She tells him to stop crying or she will sell him to me!
Brick factories are notorious employers of trafficked and under-age children. The older children, aged 10 upwards, make bricks for about £1.30 a day, while the younger ones will be 'helping' their parents for nothing. Very few, if any, will be attending school. I plan to write an illustrated article about this to publicise their plight.
---
RANDOM DAYS MAY 2016
The central focus of this trip turned out to be orphaned and needy children, and not trafficked and exploited children as originally intended. This was because several important contacts were either away in remote parts of Nepal or overseas.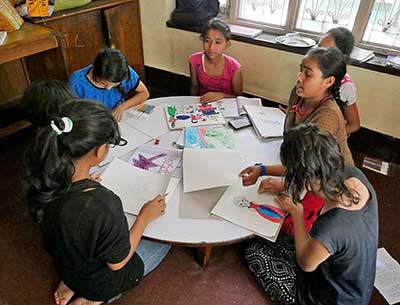 PIN: I made a return visit to the PIN (People in Need) home for girls aged between 7 and 20, and delivered the framed photograph of Maureen that they requested after her 'One Golden Angel' memorial fund paid the school fees of all 26 residents during my April visit. I arrived with board games (charades, scrabble and checkers), balls, rubric cubes, recorders, hula hoops, felt pens and sketchpads, all of which were enthusiastically received and were much in evidence on my subsequent visits. As a special treat I funded the purchase of new dresses and wristwatches for everyone. I also secured university sponsorship for four of the older girls, and arranged counseling for another.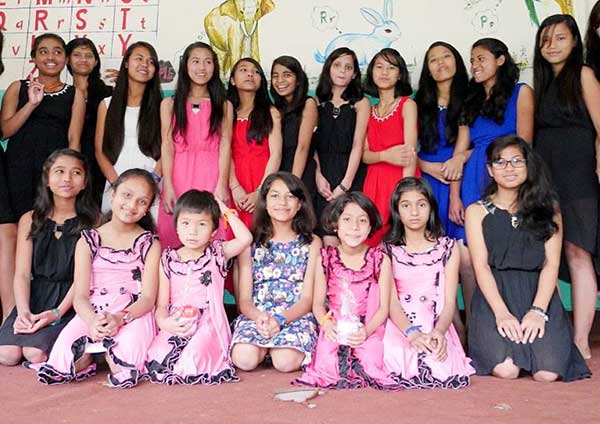 NCO: I also made two visits to the Nepal Children's Organization (NCO) widely known as 'The Children's Temple'. This self-governing non-government organization provides numerous programs to eliminate child abuse and runs 10 residential homes for orphans, prisoners' children, disabled children, and abandoned newborn babies. It has high ideals and is undoubtedly doing some important work but the organization has received lots of negative publicity about mismanagement and corruption, and indeed I found evidence of both during my visits. The NCOs publicity material carries the tag line 'Putting smiles on the faces of children'. I didn't see any smiles and my visits were a sobering and heartbreaking experience!
THE NEWBORN UNIT: I was first shown the newborn unit…home to orphans and abandoned children following the desertion, rape or imprisonment of their mothers. The nursery was dark and void of anything that might stimulate interest…just rows of cribs with babies and bedding. The babies were comforted and kept clean and safe, but otherwise probably left to themselves. I left feeling very sad.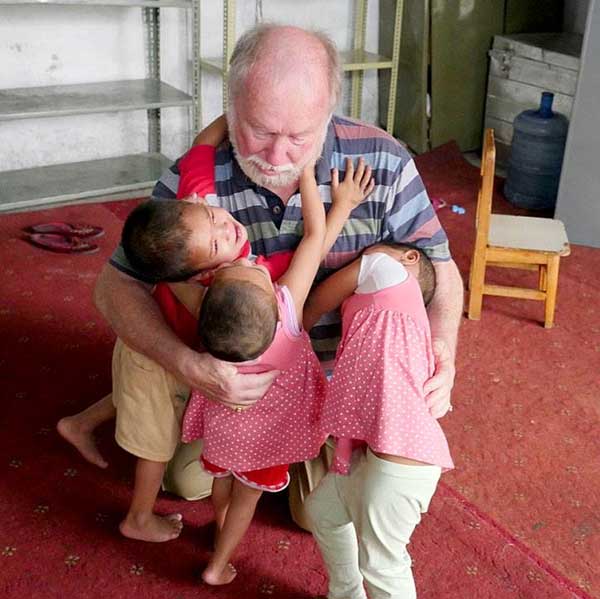 THE INFANT HOME: Next I was taken to the infants unit…a block-built shed with moldy walls and a patchwork of carpets. One wall was open and draped with green tarpaulins to keep the weather out. The room was sparsely furnished and contained a raised and carpeted platform that the 11 residents aged 2 to 5 slept on. The kitchen comprised two tables in the corner. The children spent their entire lives in this drab building. There were plenty of adults in attendance; none of whom had been paid. The original infant orphanage was destroyed in the earthquake and the present building rented as a temporary measure, but without any hope of a replacement. The staff requested diapers, mosquito nets and some storage cupboards.
On my arrival the children clamored for attention, they literally threw themselves at me…climbing my legs and leaping into my arms. Their urgent desperation for love and attention, and perhaps some rare contact with a male, was both pitiful and distressing. I handed out finger puppets, and returned later with a radio, diapers, numerous dolls and teddies, trucks and construction toys, balls, flutes, crayons and paper. Finally, some smiles!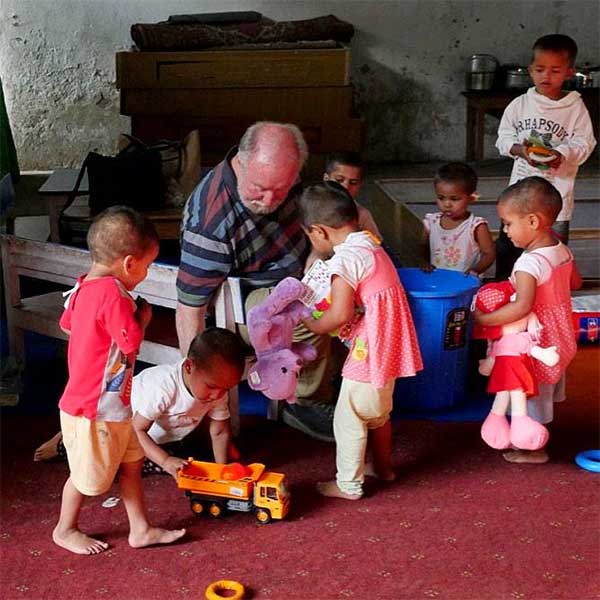 OTHER: I travelled to some towns and villages that had been particularly devastated by the earthquake, and was shocked to discover they had received NO aid and people were still living in temporary shelters a year after the event. In Bhaktapur I visited a weaving factory where women work 12 hours a day, 7 days a week, for a monthly wage of just £45. And I called on brick factories to discuss living conditions and distribute toys and the photographs I'd taken during my previous visit. I purchased a treadle sewing machine for a single mother so that she could support her family.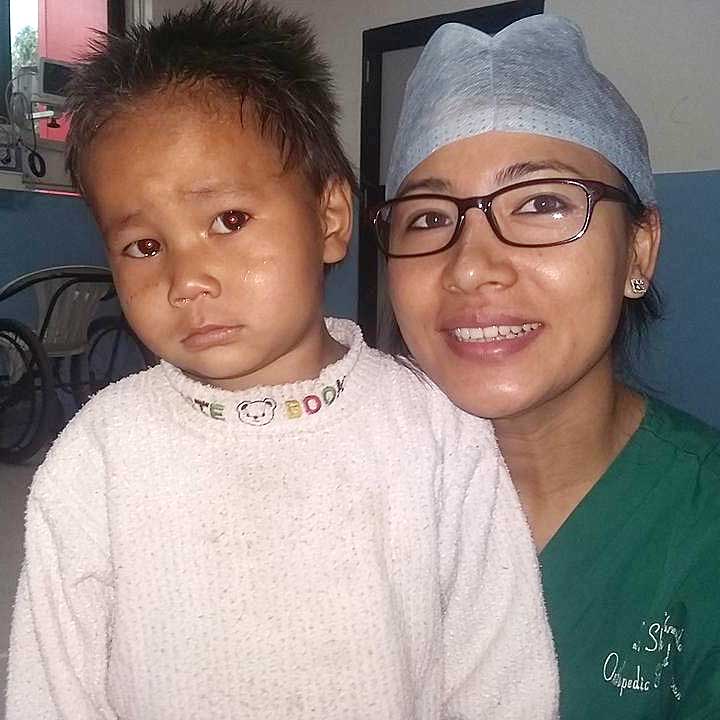 I met with Surendra, the 4 year old burns victim, and paid the first £775 towards his surgery and treatment. I also made another small donation to the young Universal Vision Group to encourage their work with disadvantaged children in remote villages.
THE ONE GOLDEN ANGEL HOME: Plans are now afoot to build my own 'One Golden Angel Home and Shelter for Rescued Trafficked Girls. I return to Nepal on 15th June.
---
THE FIRST HUMANITARIAN TRIP: I returned home on the 7th April 2016 after a very rewarding but exhausting 3 weeks in Nepal. I stayed in Kathmandu and visited places in and around the Kathmandu Valley including Bhaktapur and Patan, before travelling to Lumjung in the beautiful Annapurna region.
My mission took me to Rescue Homes, Orphanages, Schools, Dance Bars, Brick Factories and Building Sites, and remote Mountain Villages where poverty, lack of employment and migration are major issues. I had intended to concentrate my efforts on rescuing and supporting trafficked and exploited children, but my focus shifted and broadened on a daily basis as I became more aware of the magnitude of need, especially after the earthquake, and some of the charity's money was spent in unexpected ways. Fred Wilkinson
---
THE RESCUE SHELTER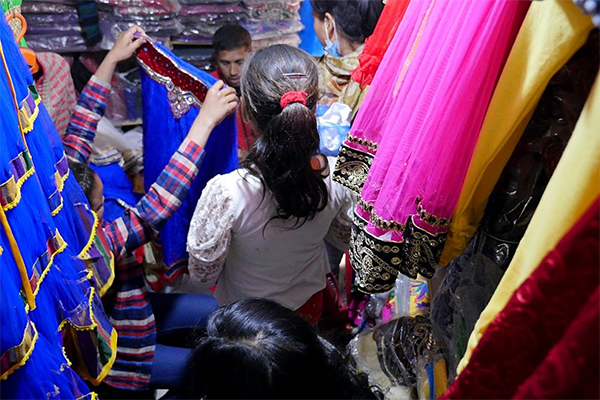 I was told the RESCUE SHELTER did not have a budget for clothing and the children were in need of some...so I financed a (first ever) SHOPPING TRIP for 8 teenage girls. They each had the same amount to spend and everyone chose a dress, a top and a pair of shoes...plus a cheap wristwatch! I also purchased a digital KEYBOARD and other musical instruments for them to play. I paid for and installed a SOLAR ENERGY SYSTEM to provide lighting and power throughout their home so that the children could read and study during the 16 hours of daily powercuts. I undertook to SUPPORT 4 MORE RESCUED CHILDREN and/or exploited young women at the shelter (including 2 teenagers that I personally 'rescued' from a 'Dance Bar') and I offered to make up the Shelter's rent short-fall until the end of the year if necessary, to allow them time to find a new sponsor.
---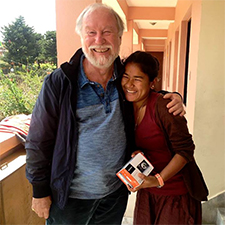 ORPHANAGE 1:
I purchased a Sony DIGITAL CAMERA and Memory Card for the children to use, so that they could photograph friends and events and have pictorial memories of their childhood. I also came up with a solution to fix the kitchen oven that had been broken for 4 months.
---
ORPHANAGE 2:
I replaced a broken 10 litre PRESSURE COOKER and bought a set of Kitchen Knives, a Chopping Board, 25 Spoons (they only had 16 between 25 residents) and 25 large Combs. They need carpet for two small classrooms...and more sanitary pads! Anyone?
---
ORPHANAGE 3 & SCHOOL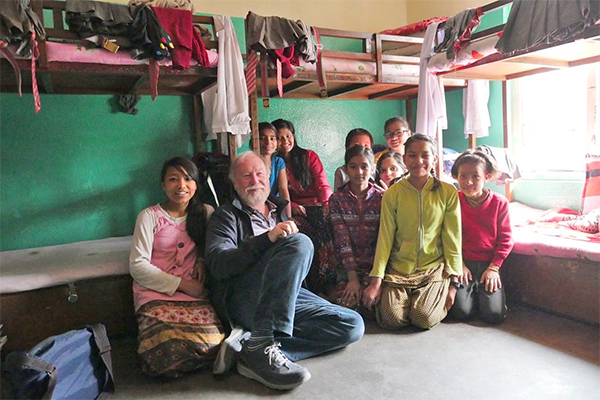 I paid the SCHOOL FEES FOR 30 ORPHAN GIRLS for 6 months, and have promised the same again.
I will look into bedroom storage solutions for their clothing on my next visit.
---
MOUNTAIN VILLAGES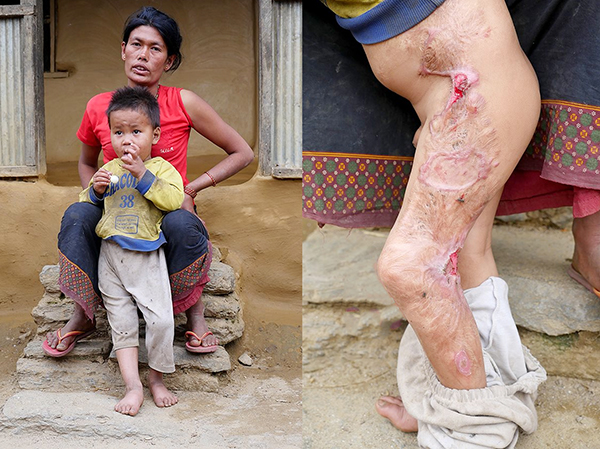 I undertook to pay for the SURGERY and treatment of this 4 year old burns victim in pain (details here),
and with son Paul bought a sack of CHICK FEED for a poor farmer in a nearby village.
---
UNIVERSAL VISION GROUP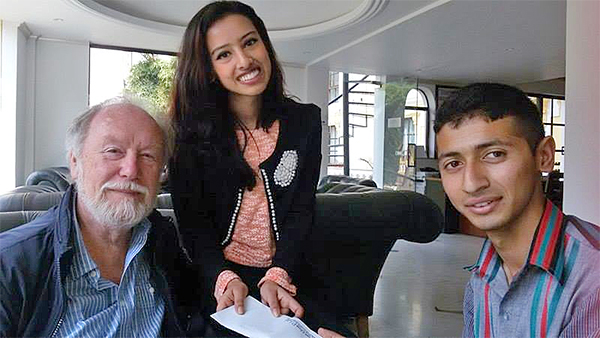 I mentored and financially SPONSORED a dedicated group of young university students and teachers who have started their own NGO (Universal Vision Group) to help the poor and tackle child trafficking in remote villages, and I am paying the UNIVERSITY FEES of a member of their team struggling to keep up with her studies whilst working extremely long hours to pay her way. She has since given up her job and is now studying full-time.
---
OTHER
In addition to the above I had countless meetings with non-government organizations and private individuals to discuss ways to tackle some of the multitude of issues relating to abuse, poverty, wealth creation and sustainability. These include new initiatives to start soap production in a remote mountain village (see below), provision of a business start-up loan for a poor mushroom farmer, and the manufacture, distribution and marketing of affordable washable sanitary pads (currently unavailable) to enable women to work and girls to attend school during menstruation, and to reduce the associated stigma and taboos that women endure. I have a big idea to introduce Humanitarian Tours at travel agents and hotels (alongside trekking, temple tours, river rafting, bungee jumping, etc.) with a percentage of profits going to the orphanages, schools, and brick factories visited. And I am considering the viability of building a fee-based Western-style Toilet and hot-water Shower Block in a poor village through which trekkers regularly pass, for villagers to earn an income from. I return to Nepal in May 2016 to continue this work.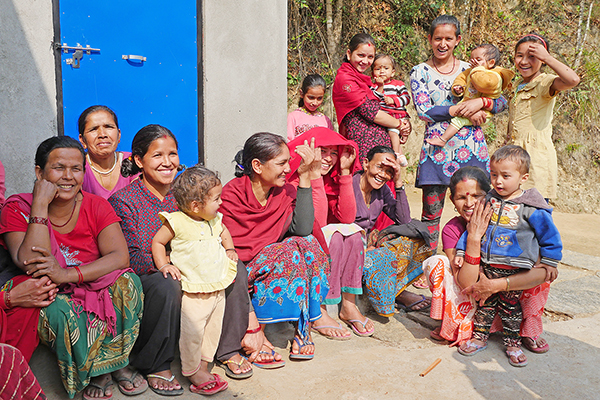 Photo: The widows and single mothers group from the mountain village of Bahundanda who hope to start a SOAP-MAKING BUSINESS that will provide them with sustainable employment and profit by significantly under-cutting the imported Indian soaps that everyone uses. Their estimated start-up costs are £3,500 (about $5,000) for training, lease of land, a temporary structure and fireplace, chemical mixing pan and spoons, plus chemicals. They will start by making laundry soaps, but also plan to make organic bathroom soaps in the future. I have a friend who can Project Manage this venture. Please contact me if you are interested in sponsoring this interesting, profitable and worthwhile project.
---