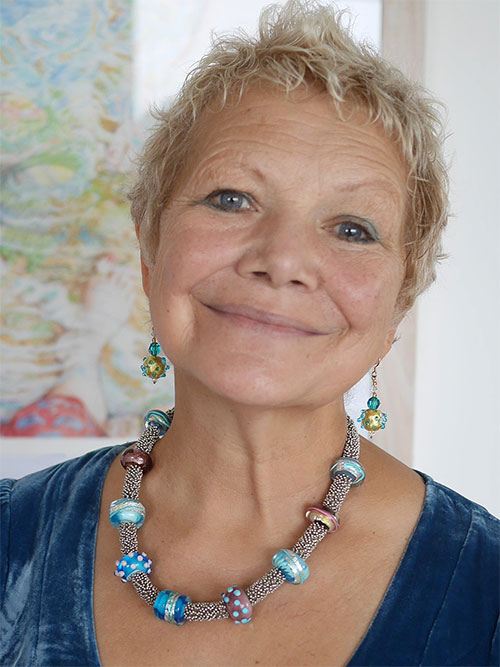 SUPPORTERS generally donate money and let me decide how best to spend it, but you can also SPONSOR a specific gift that I will purchase and deliver in person. This could be anything from a toy, a pair of jeans or dress for a child (£5), a party in a children's home (cakes, pop, balloons etc. £15 - £20), tank of water for an orphanage (£18), or a sewing machine for a business start-up (£125) all of which I know from experience will make a fantastic difference. Or perhaps you have an idea of your own for a 'spontaneous act of kindness' for someone in need? The possibilities are endless! Please contact me if you have any questions.
SPONSOR A WELCOME GIFT PACK FOR A RESCUED GIRL - £20 (US$25)
Rescued children often arrive at the Golden Angel Emergency Home with nothing but the clothes they are wearing, so every child receives a WELCOME GIFT PACK on arrival. For some children it will be their first-ever personal gift!
Each Welcome Pack contains a kurta (traditional Nepali dress) or tee-shirt and jeans, 2 panties, a pair of slippers, and personal toiletries including soap, shampoo, toothbrush and toothpaste, comb and hair clips, sanitary pads (if appropriate) plus a sketchpad and felt pens, 2 lollypops, a tropical seashell, and a pair of Golden Angel Earrings...all packed inside a pretty bag.
SPONSOR A PACK OF 25 GOLDEN ANGEL EARRINGS - £5 (US$6.50)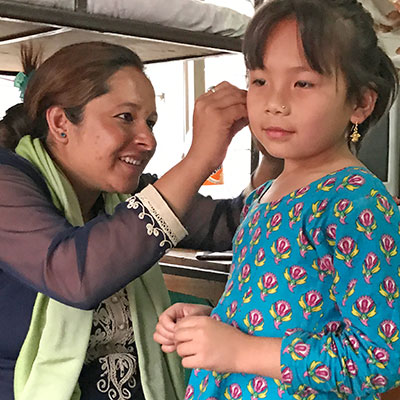 Golden Angel Earrings make a perfect small gift for Nepali children and adults alike. The back of each earring is appropriately engraved with the words 'Made for an Angel'. All the children at the Emergency home receive a pair, as well as street children and those at orphanages and brick factories that I visit. Adults love and appreciated them as much as children.
I buy the component charms and earring hooks on eBay and assemble them myself with pliers at a cost of just 20p a pair…a tiny sum considering the joy they bring. But better still, they can be sold for Rs.150 (£1.15) at Nepali Craft Fairs by non-profit organizations…and this has opened up the possibility of the earrings providing a vital source of income for a student, or even a family. A £5 donation will buy 25 pairs of earrings that could retail in Nepal for £28.75 and perhaps wholesale at £10 (equivalent to a weekly wage).
To SPONSOR any of the above, or anything else, just include a note with your donation, and I will deliver your gift in person.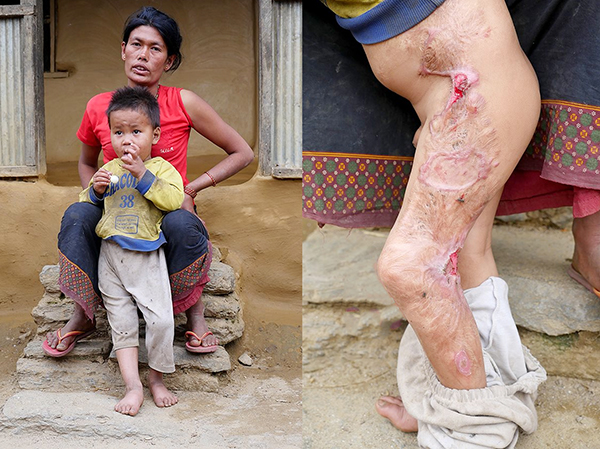 SURENDRA: I chanced upon Surendra and his mother in a remote mountain village. He had slept too close to an open fire inside his house and rolled onto it when he was 6 months old, but received NO TREATMENT apart from a dressing because his parents were too poor to take him to hospital. It's hard to imagine the pain this little boy endured. He is now aged 4, and 3½ years later the wounds are still open and bleeding (look behind his knee) and the muscle damage and terrible scar tissue is restricting normal leg movement. He cries each night in pain.
I have since paid for his surgery and hospital expenses at a cost of £997 ($1,125) with funds raised through this charity, and Surendra is now running around and pain-free, although he still needs some physiotherapy. Will you help to fund an operation or medical treatment for another child in need?
---
BANK TRANSFERS: Charity Account Name: W. F. Wilkinson. Account Number: 45166226. Sort Code: 52-41-31
IBAN: GB06NWBK52413145166226. BIC: NWBKGB2L