Sponsor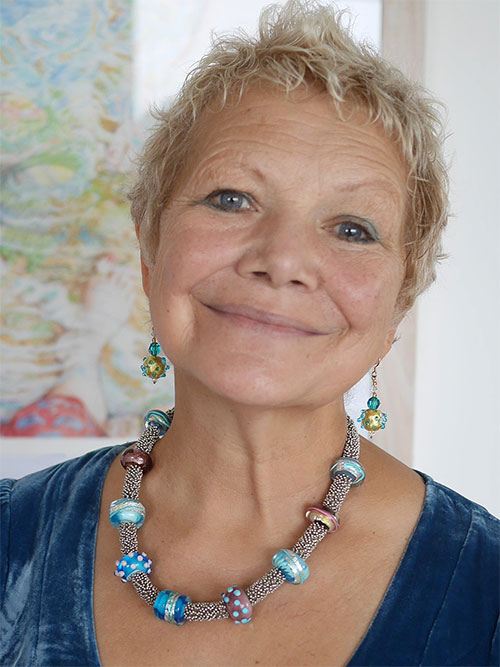 SUPPORTERS generally donate money and let me decide how best to spend it, but you can also SPONSOR a specific gift that I will purchase and deliver in person. This could be anything from a toy, a pair of jeans or dress for a child (£5), a party in a children's home (cakes, pop, balloons etc. £15 - £20), tank of water for an orphanage (£18), or a sewing machine for a business start-up (£125) all of which I know from experience will make a fantastic difference. Or perhaps you have an idea of your own for a 'spontaneous act of kindness' for someone in need? The possibilities are endless! Please contact me if you have any questions.
SPONSOR A WELCOME GIFT PACK FOR A RESCUED GIRL - £20 (US$25)
Rescued children often arrive at the Golden Angel Emergency Home with nothing but the clothes they are wearing, so every child receives a WELCOME GIFT PACK on arrival. For some children it will be their first-ever personal gift!
Each Welcome Pack contains a kurta (traditional Nepali dress) or tee-shirt and jeans, 2 panties, a pair of slippers, and personal toiletries including soap, shampoo, toothbrush and toothpaste, comb and hair clips, sanitary pads (if appropriate) plus a sketchpad and felt pens, 2 lollypops, a tropical seashell, and a pair of Golden Angel Earrings...all packed inside a pretty bag.
SPONSOR A PACK OF 25 GOLDEN ANGEL EARRINGS - £5 (US$6.50)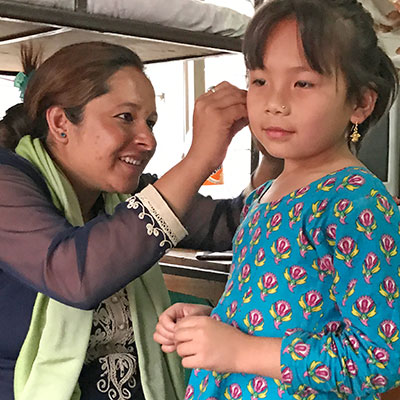 Golden Angel Earrings make a perfect small gift for Nepali children and adults alike. The back of each earring is appropriately engraved with the words 'Made for an Angel'. All the children at the Emergency home receive a pair, as well as street children and those at orphanages and brick factories that I visit. Adults love and appreciated them as much as children.
I buy the component charms and earring hooks on eBay and assemble them myself with pliers at a cost of just 20p a pair…a tiny sum considering the joy they bring. But better still, they can be sold for Rs.150 (£1.15) at Nepali Craft Fairs by non-profit organizations…and this has opened up the possibility of the earrings providing a vital source of income for a student, or even a family. A £5 donation will buy 25 pairs of earrings that could retail in Nepal for £28.75 and perhaps wholesale at £10 (equivalent to a weekly wage).
To SPONSOR any of the above, or anything else, just include a note with your donation, and I will deliver your gift in person.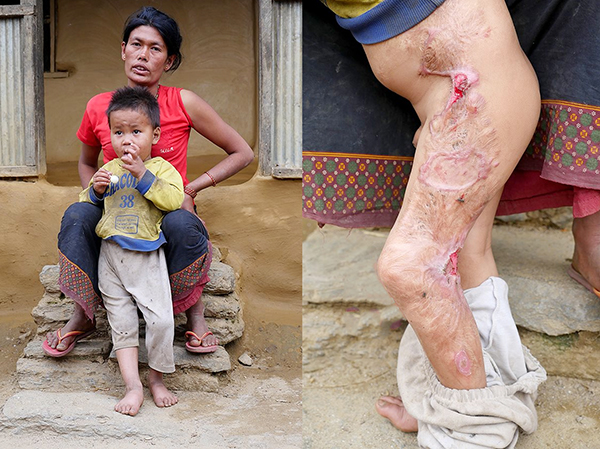 SURENDRA: I chanced upon Surendra and his mother in a remote mountain village. He had slept too close to an open fire inside his house and rolled onto it when he was 6 months old, but received NO TREATMENT apart from a dressing because his parents were too poor to take him to hospital. It's hard to imagine the pain this little boy endured. He is now aged 4, and 3½ years later the wounds are still open and bleeding (look behind his knee) and the muscle damage and terrible scar tissue is restricting normal leg movement. He cries each night in pain.
I have since paid for his surgery and hospital expenses at a cost of £997 ($1,125) with funds raised through this charity, and Surendra is now running around and pain-free, although he still needs some physiotherapy. Will you help to fund an operation or medical treatment for another child in need?
---
BANK TRANSFERS: Charity Account Name: W. F. Wilkinson. Account Number: 45166226. Sort Code: 52-41-31
IBAN: GB06NWBK52413145166226. BIC: NWBKGB2L
How we are Funded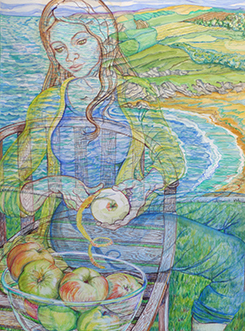 ONE GOLDEN ANGEL is funded entirely by myself and PRIVATE DONATIONS from complete strangers, friends and family, local fund-raising events, and the SALE OF PRINTS of Maureen Wilkinson's own beautiful artwork - Watercolours, Oil Paintings and Collages. You can see and buy some here. Funds are now at an all-time low, so please help in any way that you can by donating, sponsoring or fundraising or shopping...and make a real difference to a child's life!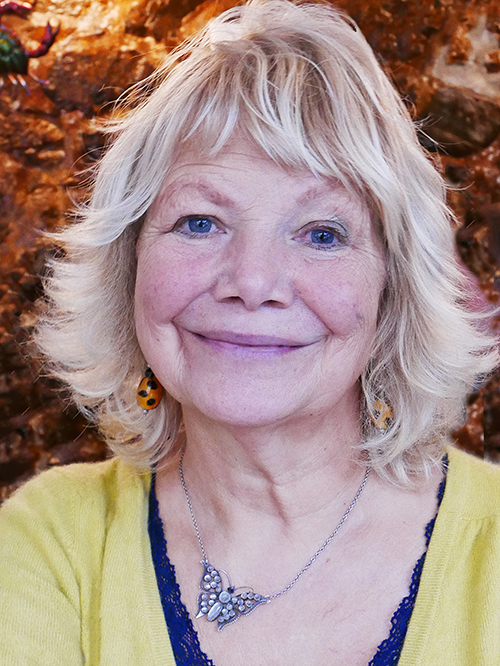 MAUREEN would be amazed at the support and encouragement I have received in setting up this Memorial Charity in her name, and she would be heartened to know that her premature death has resulted in something that offers a LIFELINE to others.
MAUREEN studied Fine Art at the prestigious Goldsmiths College of Art, London, and painting and poetry were her creative mainstays throughout life. She painted every day but worked slowly, often taking up to a month to complete a picture. Her paintings and collages proved very popular but the originals are quite large, so in recent years limited edition fine art giclee prints of her work were made in smaller sizes to sell through galleries. See them here.
Photo: Maureen in December 2014. Painting: 'A Woman Peeling Apples - the Earth Turning'.

Trafficking of Children
THE TRAFFICKING OF GIRLS FOR SEX
Every year thousands of young Nepali girls are trafficked and subjected to physical, mental and emotional trauma, and economic and sexual exploitation. An estimated 12,000 girls, some as young as 10 (average age 15), are trafficked annually across the border into India where they are sold to brothels and forced to become prostitutes. Nepalese girls are highly prized in Indian brothels for their beauty, lighter skin colour, and the persistent myth that having sex with a virgin or younger girl can cure STDs and AIDS.
Thousands of teenage girls and young women are also trafficked and sexually exploited within Nepal itself. Many are sold and beaten, intimidated and sexually abused by their owners or employers, who force them to work in brothels, dance bars, cabin restaurants and massage parlours for a subsistence wage. Sometimes the girls cannot leave until they recruit a replacement, and in so doing, they themselves become traffickers. Their terrible shame and distress is compounded by risk of client violence, HIV infection and STDs, and stigma and discrimination in their families and society. It is extremely difficult and potentially dangerous for victims to escape this cycle of abuse, and the Golden Angel Emergency Shelter could literally be saving the lives of rescued children and women.
DOMESTIC SERVITUDE AND DEBT BONDING
Around 7,500 children are trafficked domestically for commercial exploitation. Traffickers can earn up to £400/$570 for every boy or girl they supply. Some victims are sold into domestic servitude where they are often abused, some are debt-bonded to brick kilns and other manufacturing industries, or forced to work in sweatshops, hotels, bars and restaurants, while many more work in agriculture. About 80% of all trafficking victims are girls.
THE TRAFFICERS AND HOW THEY OPPERATE
Traffickers typically source their victims in the poor rural areas of Nepal where unemployment is high and standards of education low, but recently they have also been actively seeking earthquake orphans and children from homes that lost their main breadwinner in the 2015 disaster. Their methods range from forcibly snatching, drugging or coercing their victim into cooperating, to false marriage, and posing as aid workers or recruiters promising work or education either in Kathmandu or abroad. Sadly, in some cases impoverished parents, relatives or acquaintances are knowingingly complicit in the deception, and facilitate the trafficking of children and young women for money.
WHAT WE DO
ONE GOLDEN ANGEL'S primary focus is the rescue, support and rehabilitation of trafficked and exploited children and women. Our groundbreaking Golden Angel Emergency Shelter, the first of its kind in Nepal, offers a lifeline to trafficking victims. We also work closely with locally based NGOs committed to combatting trafficking, gender based violence and cultual malpractices. By supporting One Golden Angel you will be helping to rescue and support girls who are being sold right now...and setting them free!
PLEASE HELP US COMBAT THIS EVIL AND PROVIDE SHELTER AND NEW HOPE FOR VICTIMS
Maureen Wilkinson
Maureen was born in London on 28th June 1944. Her father lost his sight in an accident shortly after her birth, and thereafter the family lived in fairly frugal circumstances. Throughout her childhood she acted as her father's 'eyes', describing things to him and guiding his excusions, and these experiences were to have a profound effect upon her later perceptions as an artist and poet. In the early 1960s she studied Fine Art at Goldsmiths College, where she met and married fellow student Fred Wilkinson. After graduating she exhibited her paintings in solo and group shows in the UK and Europe, before working for fifteen years as a teacher to emotionally disturbed andolescents, and later to younger dyslexic pupils.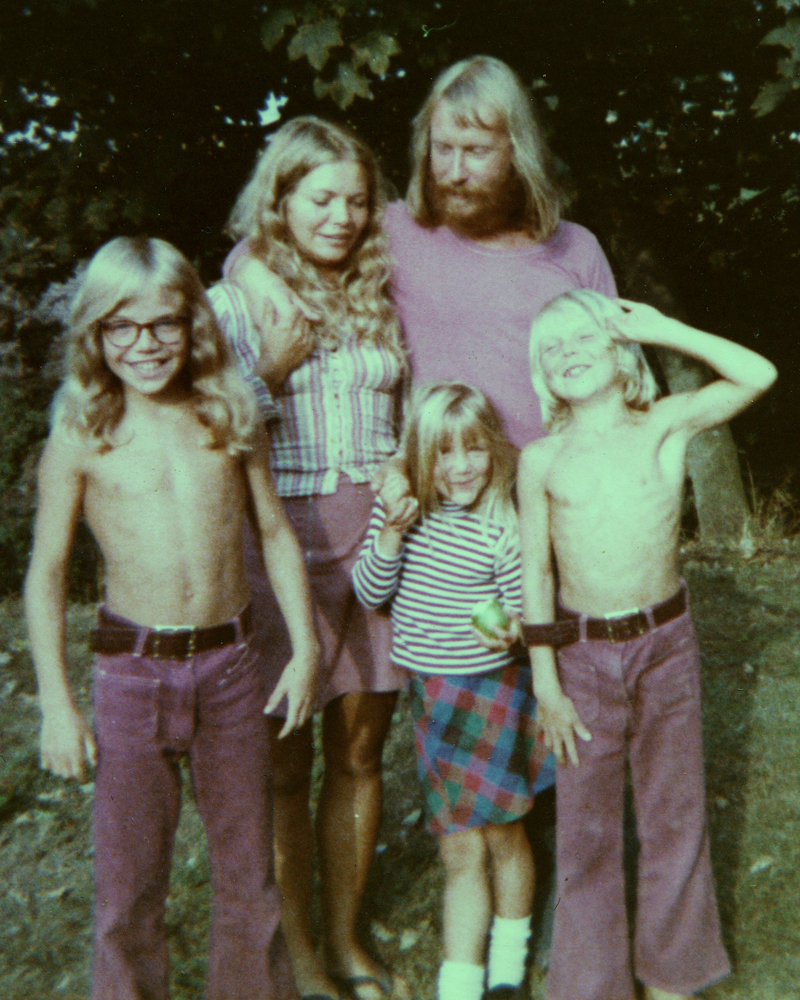 As a working mother with three young children there was little time during these years to pursue her career as an artist, and instead she translated her visual ideas into poetry. During the 1980's and 90's she won several major literary prizes, was published by Peterloo Poets, and had work included in many anthologies. Poems were often inspired by intensly visual ideas and visual sequences, and this resulted in her practice of partnering poetry with some visual works, and the inclusion of text in some pictures.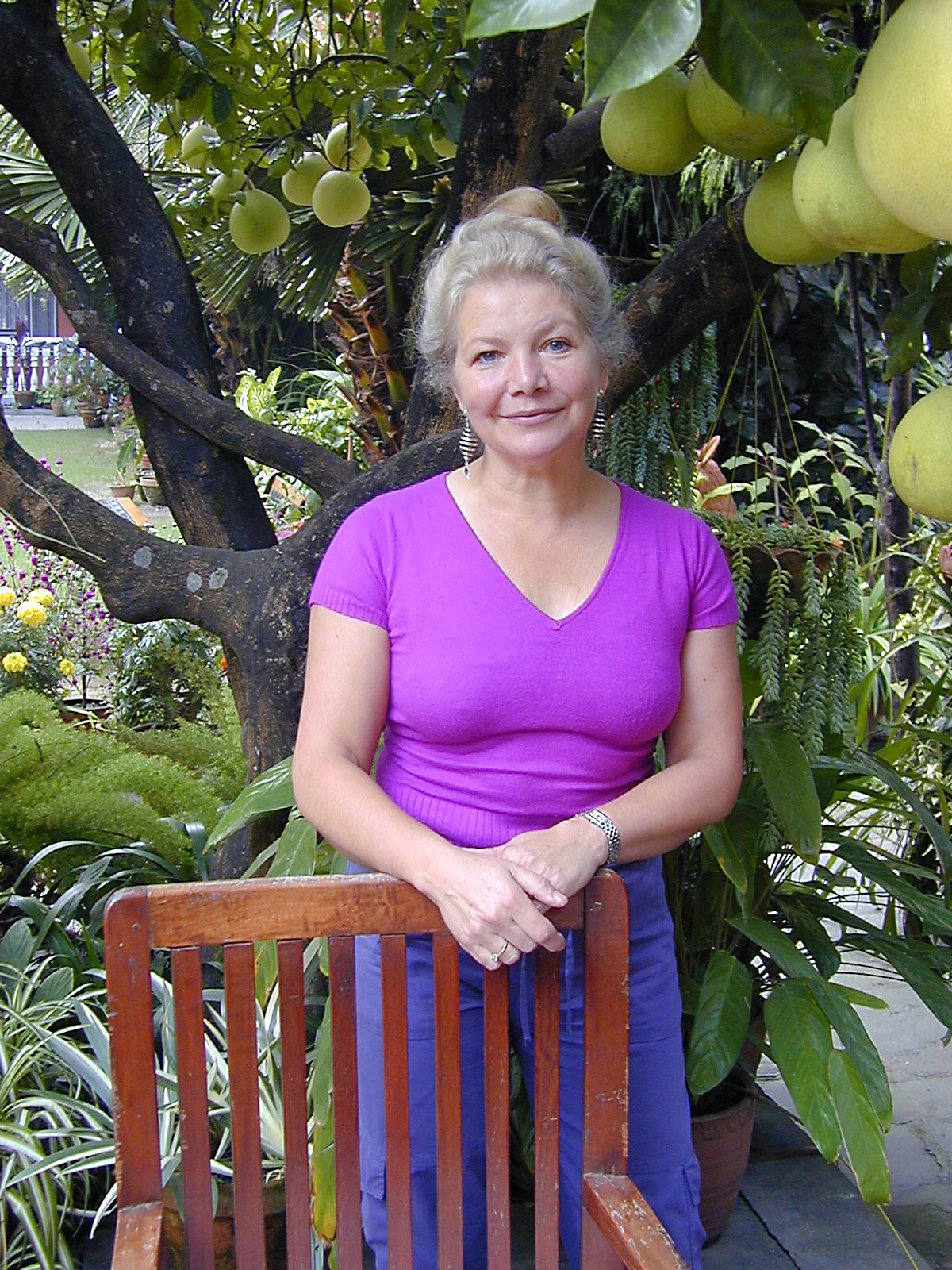 In 1981 Maureen moved to a small farm in Cornwall with her husband and family. Virtually overnight they became farmers growing fruit and vegetable, hand-milking two cows, rearing pigs, poultry, sheep and cattle in an attempt to become self-sufficient. She was enchanted by the space, solitude and beauty of her new environment, and an awareness of 'self' within an intimately known landscape became a profound creative influence.
In the mid 1980s the Wilkinsons embarked on a period of world travel, their trips embracing South America, Nepal, India, China and Thailand, but particularly focussing on the Far East. They eventually made over 40 trips to the Indonesian island of Bali to study its art and culture. This led in 1988 to the opening of Cornwall's renowned Morning Price Gallery in Falmouth, specializing in ethnic Art & Crafts from around the world. In the early 1990s they opened a second gallery in Falmouth and others in Penzance and Penryn. The Wilkinsons were early pioneers of fair trade. They personally purchased and commissioned their stock directly from artists and craftsmen at source in the country of origin, and later provided well-paid regular employment for about 200 craft families in some of the poorer regions of the world. Their Falmouth gallery remained open until 2004 when the business emphasis switched from retail to web-based wholesale. Trading as World Art & Crafts the Company supplied fair trade decorative and ethnic handicrafts to retaileres throughout the UK and Europe until its eventual sale in 2010. Maureen continued to write and paint throughout this period.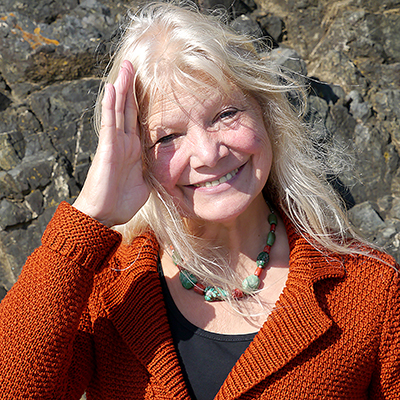 In 2008 Maureen moved to a cliff-top home facing the ocean in a remote part of Cornwall, UK, where she lived with her artist/photographer husband Fred and their two red setters. She continued to paint, make collages, and write poetry until shortly before her death. Her last collage 'The Garden of Dreams' was based on a beautiful walled garden of that name in Kathmandu that she visited a few days prior to her first stroke. Her last poem 'Stroke' reflects on her experience. Sadly, both works were unfinished when she passed away on 30th October after a series of devastating strokes and cancer.
Maureen was beautiful, enchanting, imaginative, kind and loving...always a joy to be around. She painted, she wrote, she gardened, she baked and she laughed! She was quirky, courageous and adventurous, and put her heart and soul into everything she did. She always saw the best in people, and quietly sought to comfort and heal. She believed in the power of love. She was an inspirational and magical woman...a natural mystic, a woodland spirit! Many will recall her quiet wisdom, ready smile and her laughter. She was my wonderful soul mate for 54 years and I cannot imagine life without her...although I feel her presence everywhere!
This charity, One Golden Angel, is to honour her memory. Fred Wilkinson.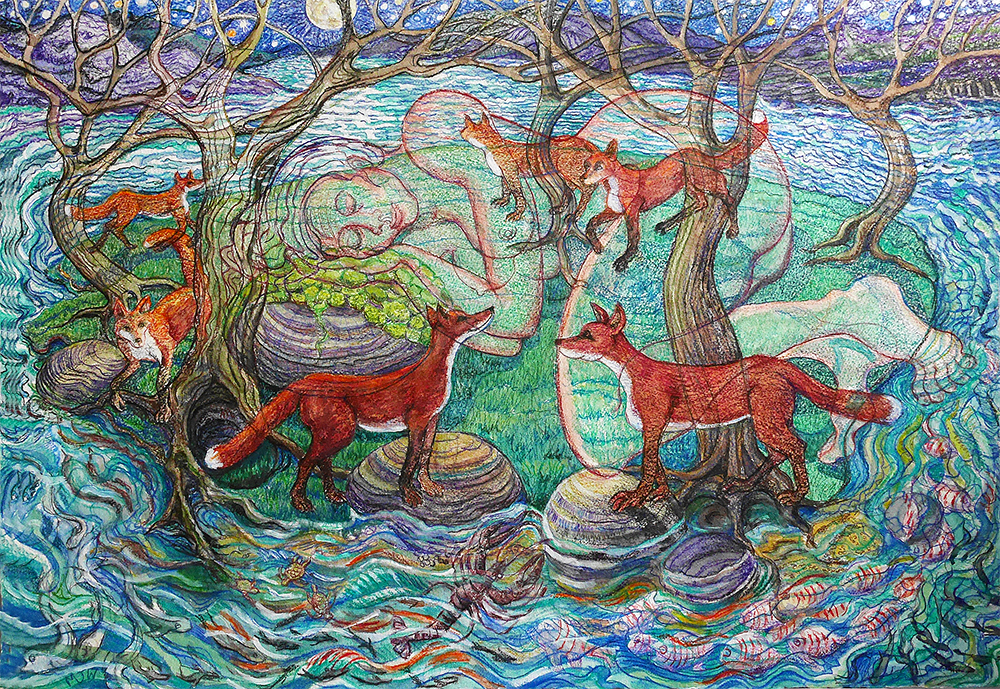 Fox Island - by Maureen Wilkinson
Maureen always loved foxes and believed, like me, that seeing one was lucky. I discovered this lovely watercolour painting in her studio shortly after her death. It depicts a naked woman (herself) peacefully sleeping, perhaps dreaming, surrounded by 6 foxes on a tiny wooded island. Her pillow is a mossy boulder. There is a full moon and a star-studded night sky, the oak trees are bare, and the ocean is full of fishes, baby turtles, and a crayfish. The foxes were undoubtedly her animal totems and her guardians. Prints of this painting can be purchased on this website.
Why 'One Golden Angel'?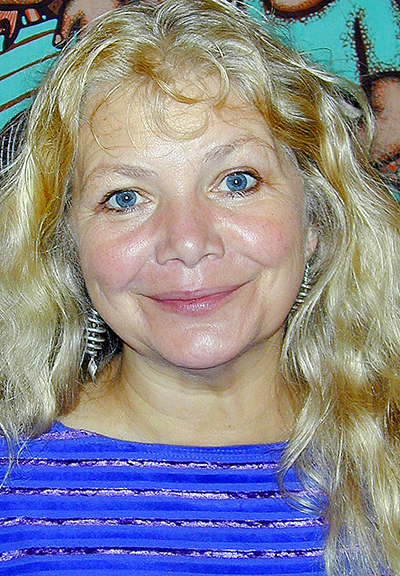 ONE GOLDEN ANGEL - THE NAME
Maureen often struggled to remember the passwords she created when re-visiting a website, and frequently had to invent new ones. One day, after several failed attempts to recall a password, she smiled as she told me she had just created a new one called 'One Golden Angel'. Later, towards the end of her life, when cancer and multiple strokes left her unable to speak and barely write, I sat beside her at the computer and went through a list of possibilities for a particular website. 'One Golden Angel' turned out to be the password, and her brave attempts to write it down were the last words she wrote!
The password sprang to mind again when contemplating names for her Memorial Charity, and I couldn't imagine anything more fitting. She was, is, and always will be, my One Golden Angel!
Click HERE for more about Maureen.
DEFINITIONS OF ANGEL:
A benevolent celestial being that acts as an intermediary between Heaven and Earth. A spiritual being that serves especially as a messenger from God or as a guardian of human beings.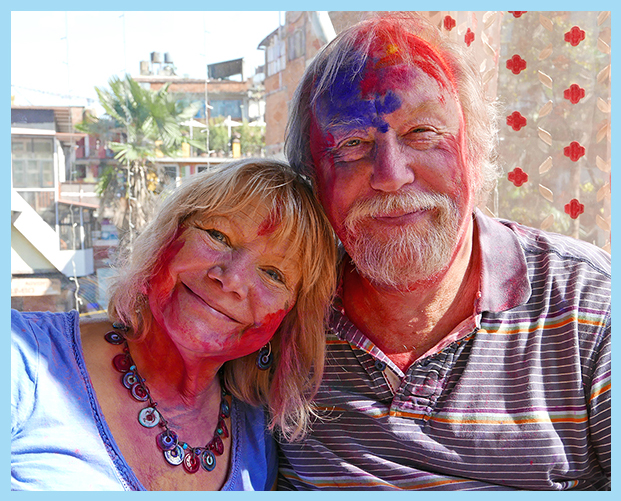 Our wonderful last holiday together celebrating the Holi Festival in Kathmandu in March 2015.
The Turkish airliner we were due to fly home on crash-landed on the runway closing Kathmandu Airport for 4 days, during which time Maureen ran out of essential medication. This resulted in a stroke at Istanbul airport on the journey home, and predisposed her to others. Back in the UK we discovered her cancer had returned. She courageously began a second course of chemotherapy in late June, and it was this that triggered the two devastating strokes that eventually claimed her life on 30th October 2015.